'Phantom Thread' 70mm Screenings Are Coming To Select Theaters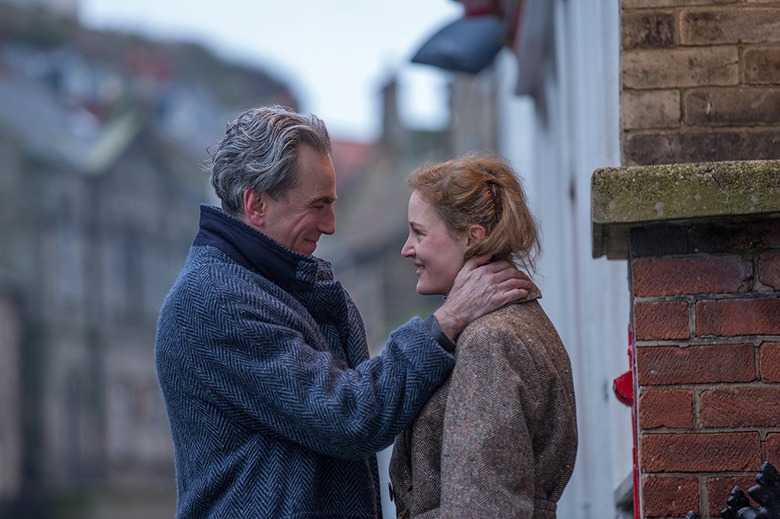 Phantom Thread is being hailed as Paul Thomas Anderson's latest masterpiece and a worthy send-off to legendary actor Daniel Day-Lewis in his reported final role, so only the biggest screen can do it justice. And audiences will soon be able to experience the film in 70mm glory in select theaters across the nation.
Starting on Christmas Day and continuing through January, Phantom Thread 70mm screenings are arriving to New York and Los Angeles before moving away from the coast to theaters in in San Francisco, Austin, and Chicago.
Focus Features released a Phantom Thread trailer advertising exclusive Christmas Day engagements for the period drama in 70mm. "Run, don't walk!" the trailer exclaims, before offering the website listing the participating theaters and where to buy tickets.
Phantom Thread 70mm Screenings Trailer
Here's a full list of 70mm locations:
December 25: 70mm & digital
Arclight Hollywood, LA
The Landmark, LA
AMC Lincoln Square 13, NYC
January 12: 70mm
Alamo Drafthouse New Mission, SF
Alamo Drafthouse Ritz, Austin
Alamo Drafthouse Brooklyn, NYC
The Music Box, Chicago
This newest marketing strategy is in line with the culture of exclusivity that Focus Features and Anderson have built up around the film, which was veiled in mystery throughout and after its production, without even a title or release date announcement until two months before its limited release. But the tight-lipped strategy for the film has only served to increase buzz around Phantom Thread, which reunites Anderson with his There Will Be Blood star Day-Lewis — possibly for the last time.
Majestic 70mm screening or not, it seems like people won't be disappointed. Critics have raved for the film about a eccentric fashion designer (Day-Lewis) who becomes enamored with his newest muse (Vicky Krieps), calling it one of the best films of 2017. /Film's own Chris Evangelista praises Phantom Thread as "a delirious, lush, hypnotic, pitch-black comedy; a film that serves as a rebuttal for the prototypical "miserable artist who gets away with treating others like crap because he's so talented" trope. Here is an intricate, sly, deceptive film, and what a glorious film it is."
Here is the official synopsis for Phantom Thread:
Set in the glamour of 1950's post-war London, renowned dressmaker Reynolds Woodcock (Daniel Day-Lewis) and his sister Cyril (Lesley Manville) are at the center of British fashion, dressing royalty, movie stars, heiresses, socialites, debutants and dames with the distinct style of The House of Woodcock. Women come and go through Woodcock's life, providing the confirmed bachelor with inspiration and companionship, until he comes across a young, strong-willed woman, Alma (Vicky Krieps), who soon becomes a fixture in his life as his muse and lover. Once controlled and planned, he finds his carefully tailored life disrupted by love.
Phantom Thread hits limited theaters on December 25, 2017.