'Annihilation' Producer Worried Audiences Are Too Dumb To Enjoy The Film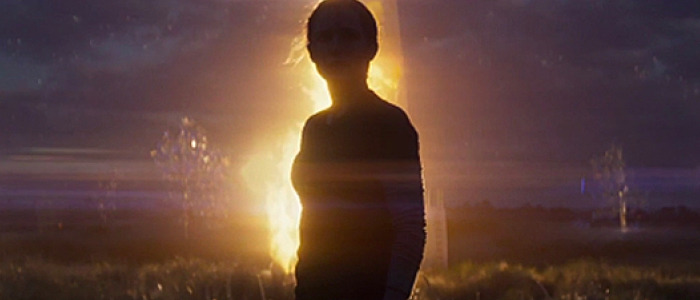 Alex Garland's Ex Machina follow-up Annihilation, adapted from the first book in Jeff VanderMeer's Southern Reach Trilogy, looks incredible. But behind-the-scenes, one of the film's producers has been concerned that Garland's adaptation might be too intelligent for average moviegoers to grasp some of the film's weirder, more complicated elements. The Annihilation behind-the-scenes issues have resulted in an unprecedented deal with Netflix.
Jeff VanderMeer's Southern Reach Trilogy – the books Annihilation, Authority and Acceptance – are weird, eerie, cerebral trips through an ever-changing, complicated narrative. The series is fantastic, but it's not exactly what I'd call light reading, or easily digestible. It seems the book's more intellectual elements have been carried over into Alex Garland's film adaptation of Annihilation, and that has one of the film's producers worried. The Hollywood Reporter reveals that producer David Ellison, the head of Skydance Productions, has voiced concerns due to some less-than-positive early test screenings on the film.
Per THR, Ellison was worried that Annihilation might be "too intellectual" and "too complicated" for average moviegoing audiences. The film's story involves an all-female expedition into a mysterious quarantined zone known as Area X, where strange, unexplainable things occur. It's no doubt left a few test audiences members scratching their heads, and that made Ellison nervous. The producer suggested several changes to make the film less complicated, including making the film's lead character, played by Natalie Portman, more likable and altering the ending. This kicked off a behind-the-scenes clash between Ellison and the film's executive producer, Scott Rudin, who defended Garland's cut of the film and refused to implement Ellison's suggestions.
Caught in the middle of this skirmish was Paramount Pictures, who decided to compromise by finding another distributor for Annihilation. This lead to a surprising deal with Netflix to debut the film internationally 17 days after it opens in America. It seems after the box office disappointment of Geostorm, Ellison is skittish and wants to avoid a worldwide release of Annihilation. With this deal in place, Netflix will be covering a large portion of the budget range.
This behind-the-scenes drama is a bit disheartening, particularly because I love VanderMeer's books, I love Garland's Ex Machina, and I love the cast Garland has assembled for the film adaptation: Natalie Portman, Jennifer Jason Leigh, Gina Rodriguez, Tessa Thompson and Oscar Isaac. In short, I'm dying to see Annihilation and I was hoping Garland would have a chance to adapt the final two books in the series as well. But at this rate, it seems like the future of the series is in doubt.
That said, I sort of get where Ellison's concerns are coming from. This year alone, the dark, cerebral sci-fi sequel Blade Runner 2049 drastically underperformed at the box office, suggesting that perhaps audiences just weren't in tune with it. But then again, last year's Arrival, another cerebral sci-fi flick from Blade Runner 2049 director Denis Villeneuve, was a box office hit that got nominated for several Academy Awards. Yes, it can be risky to release a dark, challenging, intellectual film to a wide audience, but sometimes it's worth the risk. At the very least, I'm glad that Rudin won out and that the film hasn't been altered to dumb things down. Especially the ending, which author VanderMeer has praised,  saying "The ending is so mind-blowing and in some ways different from the book that it seems to be the kind of ending that, like 2001 or something like that, people will be talking about around the watercooler for years."  That sounds pretty damn cool to be, and I'll be first in line to see Annihilation when it hits theaters on February 23, 2018.