'Robin Hood' First Look: Yes, It's Time For Another 'Robin Hood' Movie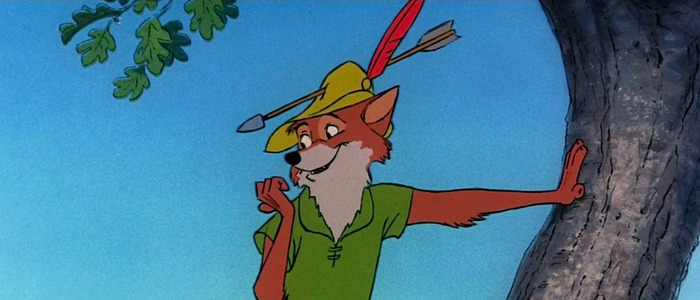 Ready for another Robin Hood movie? It's been about seven years since the last one, so I suppose it's time for Robin to break out his bow and arrow again and give the Sheriff of Nottingham a run for his money. The gritty new take on Robin Hood features Kingsman star Taron Egerton as the legendary outlaw who robs from the rich and gives to the poor. The Robin Hood first look reveals him in-character. Is he wielding a bow and arrow? Take a guess.
There have been approximately four hundred Robin Hood movies (give or take), but why not one more? Otto Bathurst, who has directed episodes of Peaky Blinders and Black Mirror, helms the latest incarnation of the famous outlaw fond of shooting arrows into other arrows, robbing the rich and adorning himself in the color green. This new Robin Hood is described as a "gritty new take", but that's nothing new: Ridley Scott's Robin Hood starring Russell Crowe was pretty much described as the same thing. Ditto the goofy but entertaining Kevin Costner flick Robin Hood: Prince of Thieves. No matter. Here's your first look at the new Robin Hood, courtesy of Entertainment Weekly.
Yep, looks like Robin Hood. Bathurst tells EW that his Robin is going to be even more revolutionary than previous versions: "In my mind, Robin Hood was this sort of seriously militarized anarchist revolutionary, a freedom thinker and a truth seeker. And the more I got into the story, it just became startling how utterly relevant it is to what's going on in society now."
Kingsman actor Taron Egerton, who plays the new Robin Hood, goes even further, comparing moments in the film to Kathryn Bigelow's intense drama The Hurt Locker: "I was approached not long after the first Kingsman movie had come out, and my initial response, to be totally honest, was 'Why?' [But] Otto told me he wanted to do something entirely revisionist, something that can't be tied down to a medieval universe. The first act of the movie, these scenes crusading in Syria, were written like something from The Hurt Locker. It was fantastic, and that was enough to convince me."  I'll admit it: even though there are plenty of Robin Hood movies already, this new take sounds distinct enough that it might turn out well.
In addition to Egerton, the new Robin Hood has lined up an impressive cast, including The Knick's Eve Hewson as Robin's love interest Maid Marion, Jamie Foxx as Robin's right-hand-man Little John, 50 Shades of Grey's Jamie Dornan as Will Scarlett and everyone's favorite on screen bad guy Ben Mendelsohn as the villainous Sheriff of Nottingham. I'll admit that of all the elements involved with the new Robin Hood, Mendelsohn's presence is the most exciting. He's fast become one of those actors who always delivers a memorable performance, no matter what the film. And Robin Hood co-star Jamie Foxx agrees, telling EW: "He's venomous. So good. There are some people that can just whup your ass. Him, Samuel Jackson, Viola Davis: ass whuppers." That sounds pretty accurate to me.
Robin Hood opens September 21, 2018. Head on over to EW for another image from the film.