'Alita: Battle Angel' Trailer: Robert Rodriguez And James Cameron Make A Cyborg Movie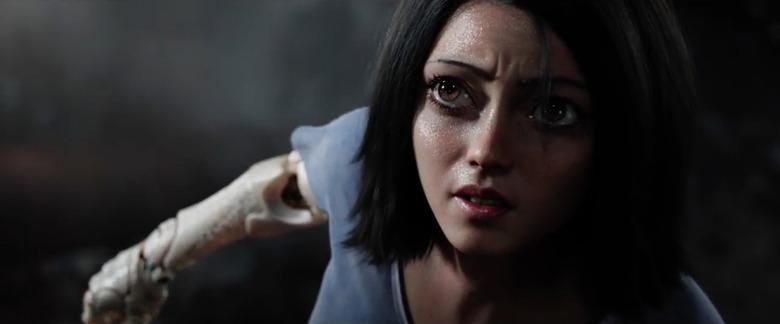 James Cameron and Robert Rodriguez make very different kinds of movies, which makes their collaboration on Alita: Battle Angel all the more intriguing. After years of delays, Cameron left the director's chair on this big-budget adaptation of the Japanese manga, opting instead to produce while Rodriguez stepped behind the camera.
But what does a film directed by Robert Rodriguez, known for his scrappy and energetic experiments, and produced by Cameron, known for pushing the boundaries of film technology forward to produce slick and glossy blockbusters, look like? The first Alita: Battle Angel trailer is here to show us.
Alita: Battle Angel Trailer
Based on the manga series Battle Angel Alita by Yukito Kishiro, the film follows a scientist (Christoph Waltz) who discovers a wrecked cyborg named Alita (Rosa Salazar) and decides to repair her and take her under his wing as a surrogate daughter. Naturally, all of this happens in the distant future, a dystopia where the powerful have retreated to the skies and left the poor down on a ruined Earth.
While every conversation about Alita: Battle Angel begins with "Isn't it crazy that James Cameron and Robert Rodriguez are making a movie together?", the two have more in common than you'd think. After all, got their start by pulling themselves up by their bootstraps and making well-regarded movies (The Terminator and El Mariachi) for pennies. After all, both have stayed ahead of the curve when it comes to technology, with Rodriguez embracing digital video before everyone else and Cameron advancing all kinds of tech to get his movies made.
And now, both have something to prove: Rodriguez hasn't made anything truly exciting in a decade and Cameron appears to be permanently stuck in Avatar-land. Alita: Battle Angel is a chance for both filmmakers to remind us that they're pioneers with the power to shake the industry. I hope they both rise to the occasion.
Alita: Battle Angels is also produced by frequent Cameron collaborator Jon Landau. Cameron wrote the screenplay with Laeta Kalogridis. In addition to Salazar and Waltz, the cast includes Mahershala Ali, Keean Johnson, Jennifer Connelly, Ed Skrein, Michelle Rodriguez, and Jackie Earle Haley. The film is scheduled to hit theaters on July 20, 2018.
Here's the new official synopsis:
Visionary filmmakers James Cameron (AVATAR) and Robert Rodriguez (SIN CITY) create a groundbreaking new heroine in ALITA: BATTLE ANGEL, an action-packed story of hope, love and empowerment. Set several centuries in the future, the abandoned Alita (Rosa Salazar) is found in the scrapyard of Iron City by Ido (Christoph Waltz), a compassionate cyber-doctor who takes the unconscious cyborg Alita to his clinic. When Alita awakens she has no memory of who she is, nor does she have any recognition of the world she finds herself in. Everything is new to Alita, every experience a first. As she learns to navigate her new life and the treacherous streets of Iron City, Ido tries to shield Alita from her mysterious past while her street-smart new friend, Hugo (Keean Johnson), offers instead to help trigger her memories. A growing affection develops between the two until deadly forces come after Alita and threaten her newfound relationships. It is then that Alita discovers she has extraordinary fighting abilities that could be used to save the friends and family she's grown to love. Determined to uncover the truth behind her origin, Alita sets out on a journey that will lead her to take on the injustices of this dark, corrupt world, and discover that one young woman can change the world in which she lives.