'Maze Runner: The Death Cure' Trailer: The Series Comes To An End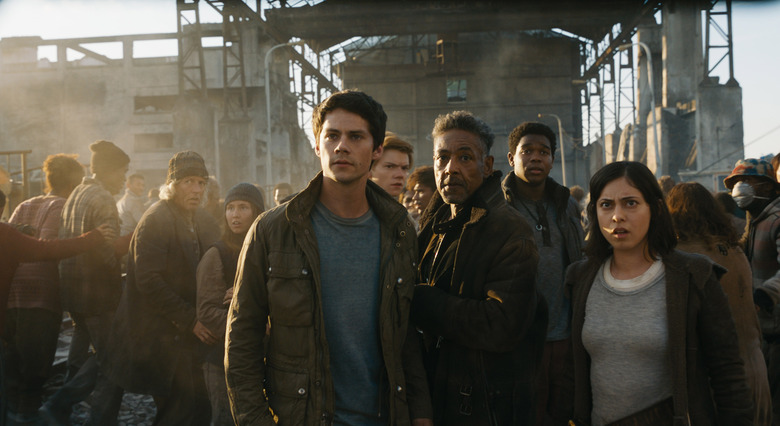 The wave of young adult novel adaptations that arrived in the wake of The Hunger Games is pretty much a graveyard, with more than a few potential franchises dying loudly and publicly. But one series has kept its head down and stayed alive: the Maze Runner films. Now, following an extended delay after its leading man suffered an on-set accident, the final film is about to hit theaters. You can watch the final Maze Runner: The Death Cure trailer below.
Maze Runner: The Death Cure Trailer
I may have to turn in my membership card to the Cool Kid's Club for saying this, but whatever: these movies are genuinely good, boosted by a game cast of talented youngsters and veteran character actors who lend their fair share of gravitas to the whole thing. Plus, director Wes Ball is the real deal. These films are exceptionally well-directed, making most other post-Hunger Games YA adaptations look limp and uninspired in just about every way. Someone give Ball a Star Wars movie when this is done and watch him win over everyone who refuses to watch a YA movie because they're too cool for it. Honestly, watching him make this hilariously complicated science fiction world function on screen has been an exciting high wire act.
Maze Runner: The Death Cure was originally supposed to hit theaters earlier this year, but a stunt-gone-wrong landed star Dylan O'Brien in the hospital, prompting an extended delay. If you haven't read Vulture's deep look at the incident and O'Brien's extended road to recovery, take the time to do so. It's harrowing stuff.
Now, the film is set to hit theaters on February 9, 2018. O'Brien returns to star, with Kaya Scodelario, Ki Hong, Thomas Brodie-Sangster, Patricia Clarkson, Giancarlo Esposito, Aidan Gillen, Barry Pepper, and Walton Goggins rounding out the cast. Aidan Gillen and Giancarlo Esposito and Walton Goggins in the same movie? So this is where all of Peak TV's scene-stealing character actors have gone.
Here's the synopsis of the original book:
In the epic finale to the Maze Runner saga, Thomas leads his group of escaped Gladers on their final and most dangerous mission yet. To save their friends, they must break into the legendary Last City, a WCKD-controlled labyrinth that may turn out to be the deadliest maze of all. Anyone who makes it out alive will get answers to the questions the Gladers have been asking since they first arrived in the maze.