'Doctor Who: Twice Upon A Time' Trailer: The Christmas Special Bids Goodbye To Peter Capaldi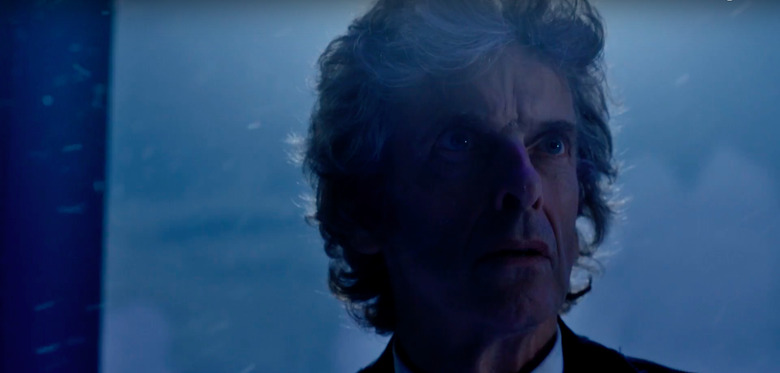 The Doctor Who Christmas special is always a big-budget TV event and for the past two actors who have played the time-traveling alien, it has been when they have bid goodbye to the long-running TV show.
Peter Capaldi will uphold that tradition and say goodbye to the role of the Doctor in this year's Christmas special, Doctor Who: Twice Upon a Time. But as he faces a future ahead of Doctor Who, he will run smack dab into the past. This is a time travel show after all, and you can't have big event TV without inviting David Bradley to play the beloved crotchety First Doctor. And let me tell you, he does not dig those sonic sunglasses.
Doctor Who Twice Upon a Time Trailer
"Come back alive."
"Be there when I do."
It's a foreboding exchange between Bill Potts (Mackie) and the Doctor (Capaldi), as he faces his latest and most trying adventure yet — dealing with his past self. This year's Christmas special finds the 12th and 1st Doctors stranded in the Arctic, on the cusp of their impending regenerations into different bodies. This isn't the first time that past and future incarnations of the Doctor have met — in fact, it's actually become commonplace, with the many anniversary episodes of the 54-year-old show teaming up the different regenerations of the Doctor.
This will be Bradley's second appearance as the First Doctor within the canon of the show, having appeared briefly in this special's lead-up episode "The Doctor Falls," after playing the First Doctor's original actor William Hartnell in the BBC docudrama An Adventure in Space and Time. But not to worry 1st Doctor fans — Bradley's got the befuddled crotchety act down pat, knocking down the 12th Doctor after he proudly shows off his sonic sunglasses indoors.
But delightful exchanges between two premiere British actors like Capaldi and Bradley aside, this episode is inherently bittersweet, as it marks the final episode for Capaldi's 12th Doctor. I was admittedly not a huge fan of Capaldi's run, but that was more the fault of showrunner Steven Moffat, whose convoluted writing and flat characterization of female characters brought down a sci-fi series that I once adored. I'm a little saddened that I won't get to witness Capaldi at his full potential now that Moffat has left and been replaced by Chris Chibnall, but I can't be more excited for his replacement Jodie Whittaker, whose 13th Doctor will be the first female Doctor ever.
Here's the synopsis for Doctor Who: Twice Upon a Time:
The magical final chapter of the Twelfth Doctor's (Peter Capaldi) journey sees the Time Lord team up with his former self, the first ever Doctor (David Bradley – Harry Potter, Game of Thrones) and a returning Bill Potts (Pearl Mackie), for one last adventure. Two Doctors stranded in an Arctic snowscape, refusing to face regeneration. Enchanted glass people, stealing their victims from frozen time. And a World War One captain destined to die on the battlefield, but taken from the trenches to play his part in the Doctor's story. An uplifting new tale about the power of hope in humanity's darkest hours, Twice Upon A Time marks the end of an era. But as the Doctor must face his past to decide his future, his journey is only just beginning.
Twice Upon a Time will premiere on Sunday, December 25, 2017 at 9/8c on BBC America. It will also be released in theaters worldwide for one night on December 27, 2017, which will offer exclusive bonus and behind-the-scenes' content about Peter Capaldi's run as the Doctor. Tickets and a list of participating theaters are available at FathomEvents.