Warner Bros. Shaking Up The DC Movie Universe Following Disappointing 'Justice League' Box Office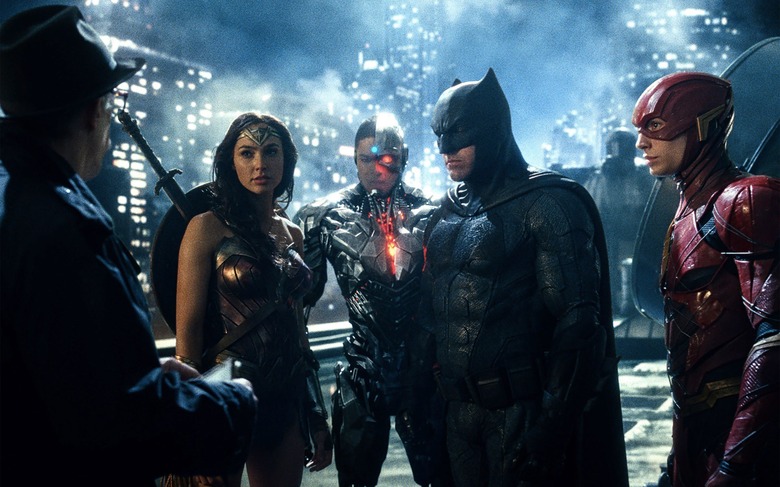 Even with over a half billion dollars grossed at the international box office, there's no denying it: Justice League isn't pulling the numbers Warner Bros. needed it to pull. It's certainly not doing Avengers-level business. At this rate, the film probably won't even hit $300 million at the domestic box office, where it will be handily outgrossed by the third Thor movie. Something had to be done. Heads had to roll. And now, it sounds like Warner Bros. is picking up the axe.
A major shake-up is underway at the studio's comic book production division, with producers being shuffled around in the wake of Justice League's disappointing box office. And there's more to come.
Variety has the whole story and it's something of a doozy. First of all, producer Jon Berg is being removed from his position at the head of the comic book movie table at Warner Bros. and while he won't be leaving the studio (he's now partnered with producer Roy Lee on other projects), you won't see his name on many more DC comic book movie adaptations. Warner Bros. Picture Group President Toby Emmerich's official statement is warm enough, but that doesn't change the fact that he's currently hunting for Berg's replacement. It's not quite a firing, but it's an acknowledgment that things simply are not working.
Whoever Warner Bros. hires to take the helm here has a big job – they need to help pull the DC movie universe out of this tailspin.
Meanwhile, comic book writer and DC Comics chief creative officer Geoff Johns will continue to work on Warner Bros.' superhero movies, but Variety reports that his position could "evolve" and he'll be more of an advisor and less of a hands-on creative force.
The article also reports that Emmerich is considering moving the DC movies into the studio's main film production arm, a model that is more like what Sony and Fox do with their comic book films than Disney, which lets Marvel Studios operate with a great deal of free rein.
Variety also has a few more gossipy tidbits, including news that parent company Time Warner was unhappy with Warner Bros.' decision to keep director Zack Snyder on Justice League following the critical failure of Batman v Superman: Dawn of Justice. They also report that director Matt Reeves is looking for "fresh talent" to play Bruce Wayne in his upcoming Batman solo film, which would mean Ben Affleck finally stepping away from the role after a year of going back and forth about his future as the caped crusader. Some rumors have suggested that Jake Gyllenhaal is up for the part. Some recent tabloid gossip claims that Mad Men star Jon Hamm is interested in the role. Both should be taken with a heaping of salt for now.
We've been writing about Warner Bros.' superhero "pivot" for some time now, ever since Wonder Woman became a box office and critical juggernaut by embracing optimism and humor, a sharp contrast to the gloomy Batman v Superman and the neon-colored acid bath known as Suicide Squad. For some time, this pivot has involved half measures: on-set rewrites for Justice League, Joss Whedon-led reshoots, promises to be more positive and crowd-pleasing in the future. But now, it certainly sounds like Warner Bros. is aware that something's got to give. All it took was a $300 million sure thing turning out to not be a sure thing at all.
After all, it's too late to turn back now. Aquaman has finished filming and hits theaters next year. Wonder Woman 2 and Suicide Squad 2 are in development. And eventually, someone will get hired to direct The Flash. These movies will get made. The question now is who will Warner Bros. hire to oversee them all and make sure they're...well, good.