Animated 'Marvel Rising: Secret Warriors' Introduces A Completely Diverse Superhero Team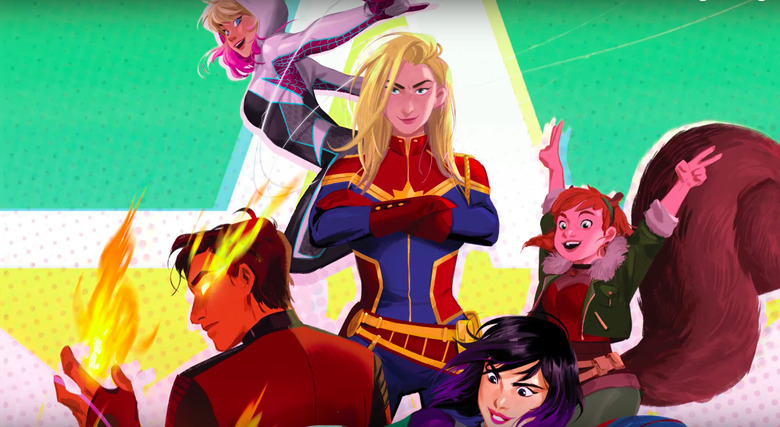 It's taken them a long time, but Marvel is finally bringing a fully diverse superhero team to the screen. And though it's not the big screen, it's still pretty darn cool.
The animated feature film Marvel Rising: Secret Warriors will boast a team of some of the most beloved female characters and heroes of color in the Marvel comics: Captain Marvel, America Chavez, Squirrel Girl, Patriot, Spider-Gwen (going by Ghost Spider here), Quake, Inferno, and Exile. And in an even greater bid for diversity, the vast majority of the actors voicing them are also people of color — including some familiar Marvel TV faces.
Marvel Rising is a new multi-platform animated franchise set to launch in 2018 showcasing the "next generation" of Marvel heroes, according to Buzzfeed. After a series of six four-minute digital shorts are released following the adventures of Ghost Spider (aka Spider-Gwen), the feature film featuring the entire team of Secret Warriors will be released.
A behind-the-scenes featurette follows the making of the feature film, which is led by Captain Marvel, soon to get her own live-action solo movie starring Brie Larson. But while it will be two more years until we get the MCU's first solo female superhero movie in theaters, we'll be able to get a majority-woman team even sooner — even if it's in animated form.
Marvel Rising Secret Warriors Featurette
Here's the cast list below:
Kathleen Khavari – Kamala Khan/Ms. Marvel
Milana Vayntrub – Doreen Green/Squirrel Girl
Dove Cameron — Gwen Stacy/Ghost Spider
Chloe Bennet – Daisy Johnson/Quake
Kamil McFadden – Rayshaun Lucas/Patriot
Tyler Posey – Dante Pertuz/Inferno
Cierra Ramirez – America Chavez
Dee Bradley Baker – Lockjaw/Tippy Toe
Ming-Na Wen – Hala the Accuser
Booboo Stewart – Victor Kohl/Exile
Kim Raver – Carol Danvers/Captain Marvel
Kamala Khan! America Chavez! Spider-Gwenl! All in the same team! And they're joined by familiar face Quake, whose voice actress Chloe Bennet appears weekly on ABC's Agents of S.H.I.E.L.D. as Daisy Johnson, as well as Milana Vayntrub's Squirrel Girl, who will later make her TV debut on the live-action New Warriors show. Agents of S.H.I.E.L.D. actress Ming-Na Wen appears in the voice-acting roster too, though not playing the role of Agent May — though here she's perfectly cast as the villainous Kree Hala the Accuser. I recognize Tyler Posey too, who plays a Hispanic Teen Wolf on MTV's Teen Wolf, and will play the Hispanic superhero Inferno. In fact, each character here is cast with a corresponding voice actor of the same ethnicity — which is a miracle in an age when whitewashing still runs rampant. But like the all-Latino cast of Coco, it looks like Marvel Rising: Secret Warriors paid sharp attention to accurate and authentic casting, even if they're only acting behind a sound booth. Heck, the animated versions of the characters even look like the actors themselves.
It's a dream come true for Marvel fans who are growing weary of solo movies starring white men named Chris, and for fans of more inclusive Marvel comic book runs. I've been craving a Kamala Khan TV series for ages — her Ms. Marvel comic book is a delight to read, and the modern-day teen comedy that Peter Parker's Spider-Man stories used to be once upon a time — and to see her headline a team alongside other fan-favorites (shout out to the scene-stealing gay, Latina superhero that is America Chavez) is nothing short of a miracle.
Sana Amanat, Marvel's director of content and character development, told Buzzfeed:
""This feature [film] is an evolution of all of the great characters that people have come to love. It came out of a desire to be able to tell stories about characters that we think are the next great heroes of the Marvel Universe."
"I think it's incredibly important that we tell young women and young girls that they have this incredible power within themselves, and that they have heroes out there [who] ... they can look up to, especially in these times."
Maybe if this animated film becomes a success, we could someday see the silver screen versions of these characters. We're already one step closer with 2019's Captain Marvel — why not a Kamala Khan Netflix series or Young Avengers movie with America Chavez? Kevin Feige said that there are more than 20 movies planned in the MCU after the game-changing events of Avengers 4. Maybe it's time to change things up.