'A Series Of Unfortunate Events' Season 2 First Look Photos Go Heavy On Disguises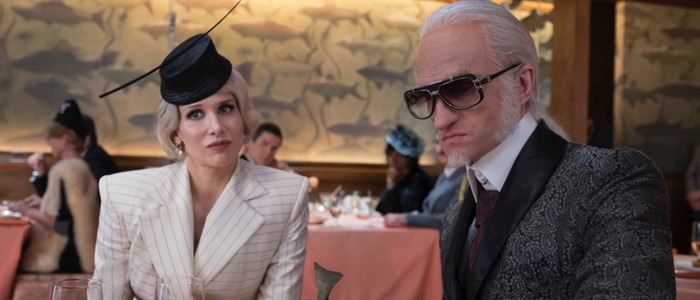 Netflix brought Lemony Snicket's delightfully macabre A Series of Unfortunate Events to life earlier this year, and fans hungry for more pun-laced gloom are in luck. The first official images from the Netflix series starring Neil Patrick Harris have arrived, and they are practically overflowing with disguises. See the A Series of Unfortunate Events season 2 images below.
Lemon Snicket (real name Daniel Handler) delighted readers with his dark, funny, somewhat somber children's book series A Series of Unfortunate Events, which ran for 13 novels between 1999 and 2006. After a 2004 film failed to set the box office on fire, plans for future movies were scrapped, but the series found new life on Netflix when executive producer Barry Sonnenfeld helped adapt the books into a stylish series starring Neil Patrick Harris. There will be more coming in 2018 and now we have the first official images from A Series of Unfortunate Events season 2. Check them out below.
The images show off the heroes of the saga, the Baudelaire orphans – Violet, Klaus, and Sunny, played by Malina Weissman, Louis Hynes and Presley Smith, respectively – and also reveals their villainous ex-guardian, Count Olaf (Harris), in various forms of disguise with his theater troupe henchmen. In the story, Olaf wants to get his hands on the Baudelaire fortune, and is continuously adopting various disguises to try to get closer to the children and they're shuttled from one inept adult guardian to the next.
The show is an okay adaptation, but the problem with adapting the books is that much of the fun of the series is drawn from the various literary elements Snicket, AKA Handler, employs. Handler's dark humor, alliterations and metafiction style works much better on the page than it does on the screen. Still, there are plenty of fans who have found enjoyment from the Netflix adaptation, and hopefully the second season will continue this trend. Here's the official synopsis:
Based on the internationally best selling series of books by Lemony Snicket (aka Daniel Handler), season two of the Netflix original series plunges further into the epic world of this darkly comedic mystery. Executive produced by Emmy Award-winner Barry Sonnenfeld and Daniel Handler – the new season of A Series of Unfortunate Events consists of ten cinematic one-hour episodes, and premieres worldwide spring 2018, exclusively on Netflix. Starring Emmy and Tony Award-winner Neil Patrick Harris, A Series of Unfortunate Events recounts the tragic tale of the Baudelaire orphans – Violet, Klaus, and Sunny – and their extraordinary encounters with the devious Count Olaf who will stop at nothing to get his hands on their inheritance. Foiling his many dastardly plans and disguises, the young siblings discover clues to their parents' mysterious death, links to a covert organization, and begin to unlock long-held family secrets.
In addition to returning cast members Harris, Weissman, Hynes and Smith, new additions to season 2 will include Lucy Punch, Nathan Fillion, Tony Hale, Sara Rue and Roger Bart. A Series of Unfortunate Events season 2 will arrive in 2018.