You Might Not Want To Watch This Shocking 'Star Wars: The Last Jedi' TV Spot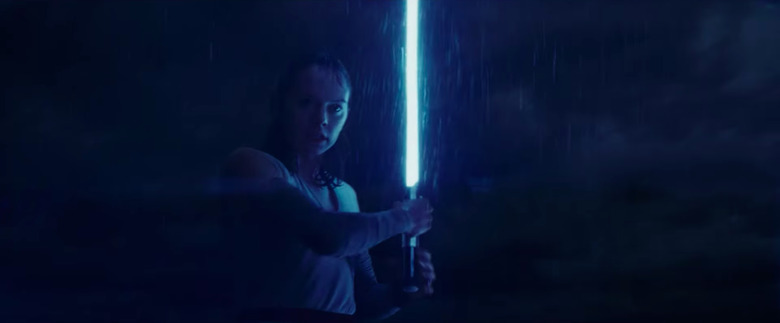 It's getting down to the final week before Star Wars: The Last Jedi, which means spoilers abound.
You have to be more wary now than ever of accidentally getting spoiled for the newest Star Wars film, as Disney and Lucasfilm kick their marketing into high gear and inundate us with hundreds of new TV spots with flashes of new, potentially spoiler-y, footage. The newest TV spot is a huge example of this. It plays like any regular Star Wars: The Last Jedi TV spot, until the last 5 seconds, when we see a brief glimpse of footage that we've never seen before.
You've been warned: there is something in this spot that you may not want to see before you're sitting in the theater. This is your spoiler alert.
One more spoiler warning! Don't yell at me!
You ready?
Star Wars The Last Jedi TV Spot
In VIII days, see Star Wars: #TheLastJedi.

Get tickets now: https://t.co/6vE5KUSv1f pic.twitter.com/kb1NeHFITQ

— Star Wars (@starwars) December 7, 2017
Yes, you saw that brief, fleeting scene of Rey using the Force to wield Kylo Ren's crossguard lightsaber and getting in position to fight as she's surrounded by Snoke's Praetorian Guards. She also happens to be situated right next to Snoke's mysterious machine, which reportedly plays a central part of the plot according to MakingStarWars.
Here is the image again so you don't have to spend your next few minutes replaying the trailer: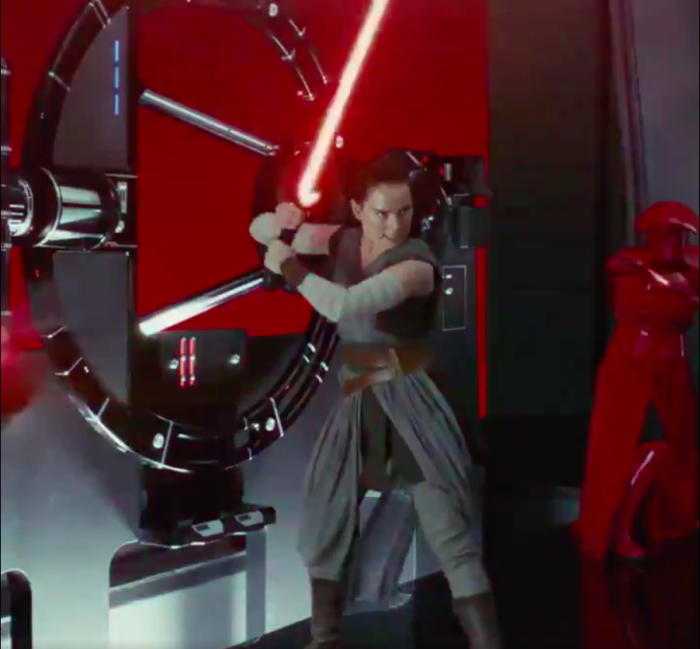 We've seen scenes that imply that Rey's powers are too great for even Luke to handle, and that she may turn to Kylo Ren and Snoke to better hone her abilities. A very suggestive scene in the first trailer shows Rey proclaiming that she "needs a teacher" and Kylo reaching his hand out to her — but there's no evidence that the two are even in the same scene.
This TV spot may be an example of this: we see an out-of-context scene of Rey in a damning situation that could prove correct the theories that she and Kylo Ren will team up. But we have no idea who she's about to fight — if anything, she looks like she's about to attack the Praetorian Guards and perhaps Kylo himself.
This TV will be the first of many that will offer spoiler-y tidbits. That being said, director Rian Johnson has assured us that he has given the marketing department "no-fly zones," so anything shown in the trailers and TV spots are not considered spoilers by the filmmaker. But while the trailers do manipulate the story, Johnson told /Film's own Peter Sciretta that "They never misrepresent the movie." He added:  "And also the other thing I love about the trailers is they don't give you answers, they just give you questions."
Star Wars: The Last Jedi is directed by Rian Johnson and hits theaters on December 15, 2017.