Release Date Announced For Ryan Reynolds' 'Detective Pikachu' Live-Action Movie [Updated]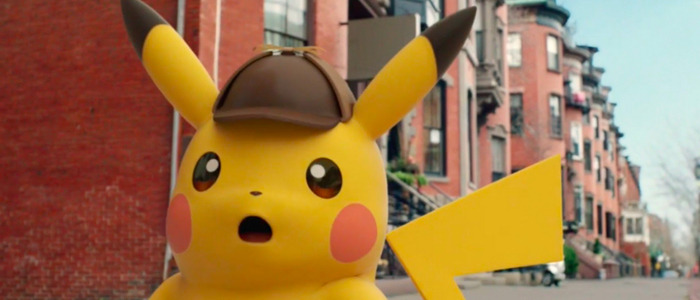 Update: Detective Pikachu will hit theaters on May 10, 2019, according to Legendary Entertainment and Universal Pictures.
If you ever wanted Deadpool to provide the voice of a Pokémon character, today is your lucky day. Ryan Reynolds is going to be Detective Pikachu, because this is the age we live in. The live-action Pokémon film adapted from the video game Great Detective Pikachu will have Reynolds providing the voice of the monster detective. The film will have Pikachu teaming up with some human characters played by Justice Smith and Kathryn Newton for a mystery centered around a kidnapping. Long live cinema!
The continually strange-sounding live-action Pokémon movie Detective Pikachu just found its leading man/monster: Ryan Reynolds. The Hollywood Reporter confirms the Deadpool star will provide the voice of Detective Pikachu himself in the upcoming film from Goosebumps director Rob Letterman. Reynolds joins an ever-growing cast that includes The Get Down's Justice Smith and Big Little Lies' Kathryn Newton.
Previous details about Smith and Newton's characters were vague, but THR has confirmed some new information: Smith's character's father is kidnapped, which causes Smith to enlist the help of Detective Pikachu himself to track the kidnappers down. Newton will play a "sassy journalist" who helps them. Hey, everything about this movie sounds strange, folks!
The Pokémon game series has been around since 1990s, spawning multiple sequels, trading cards, an anime series, and more. Last year, the mobile game Pokémon Go became a huge hit. But rather than turn Pokémon Go into a film, Legendary and Universal Pictures instead opted to adapt the video game Great Detective Pikachu to the big screen. In the game, an intelligent Pikachu moonlights as a detective, solving crimes involving other Pokémon. Pikachu teams-up with a kid named Tim Goodman, who can inexplicably understand what Pikachu is saying. I have no idea if any of this is going to make its way into the film adaptation. In fact, I don't even know why this is becoming a film, but here we are. Living in the era where Ryan Reynolds provides the voice of Detective Pikachu.
While Reynolds will lend Pikachu his voice, the character will be created via motion capture. Does that mean Reynolds will be slipping on a mo-cap suit to provide the movements of Pikachu? We can only hope. Nicole Perlman (Guardians of the Galaxy) and Alex Hirsch (Gravity Falls) wrote the script for Detective Pikachu, which is due to start filming in London in mid-January. Most of the details about the film are being kept under wraps, because heaven forbid the secrets of Detective Pikachu escape into the real world.