Disney's 'The Little Mermaid' Remake Eyes Rob Marshall To Direct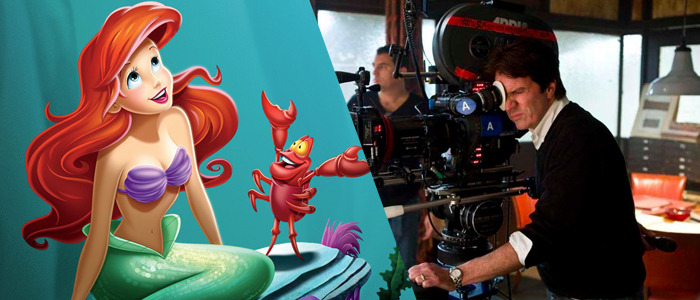 Rob Marshall, the director of movies like Chicago, Memoirs of a Geisha, and Nine, is looking to be part of Disney's world once again. According to a new report, the filmmaker is on the top of the studio's wishlist to direct the planned live-action The Little Mermaid remake, which will feature music from Hamilton and Moana's Lin-Manuel Miranda and Disney legend Alan Menken.Deadline has the news, reporting they've heard Marshall has been offered the job on the upcoming movie but that director will wait until after the holidays to decide one way or the other.
The filmmaker only has six features to his name at this point, but three of them have been for Disney. He directed Pirates of the Caribbean: On Stranger Tides (a forgettable film which inexplicably made over a billion dollars worldwide at the box office), re-teamed with the studio for Into the Woods, and is currently in post-production on Mary Poppins Returns, which is being positioned as a major holiday movie for Disney next year. The studio offering this directing job to Marshall indicates that they're pleased with what they've seen on the Poppins sequel, so at least that bodes well for that movie's prospects.
Still, I can't help but feel like Marshall is not just the wrong choice here, but a boring one, and a missed opportunity for the studio to spread the wealth to more diverse filmmakers. So far, every single one of Disney's live-action remakes – Alice in Wonderland, Maleficent, Cinderella, The Jungle Book, Beauty and the Beast, even 1996's 101 Dalmatians – has been directed by a man. Niki Caro is directing the remake of Mulan, which is a start, but these movies have proven to be box office juggernauts, so is the notion of setting up a female filmmaker for success so far out of consideration that they need to resort to offering The Little Mermaid to Rob Marshall? How about offering it to Mira Nair, who directed the studio's under-seen and under-promoted Queen of Katwe last year?
In any case, Marshall or whoever ultimately ends up directing this project will likely be keeping their eyes on two major upcoming blockbusters: Aquaman and Avatar 2. Both of those films are spending a lot of resources on filming key underwater sequences, and after seeing how Justice League whiffed on its own Atlantis moments, I have to imagine the director of The Little Mermaid will want to make sure the "under the sea" portions of his or her movie are handled better than just tossing air bubbles in and calling it a day.