'Star Wars: The Last Jedi' Is Turning Carrie Fisher's Dog Into An Alien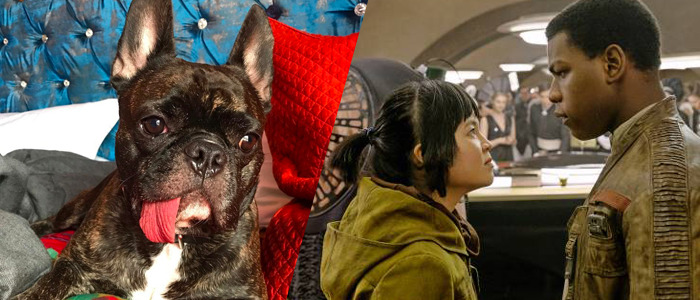 During the press junket for Star Wars: The Force Awakens back in 2015, actress Carrie Fisher brought along her trusty canine pet and therapy dog Gary Fisher, and the little guy became something of an internet sensation. The French bulldog appeared on red carpets, did the talk show interview circuit, and stayed by Carrie's side at all times, his constantly-lolled tongue providing joy to all who laid eyes upon him.
Gary found a new home with Fisher's assistant after the actress and writer passed away late last year, but now we've learned that he's being added to Star Wars canon – Carrie Fisher's dog is portraying an alien character in the upcoming Star Wars: The Last Jedi. See what he looks like in a photo below.
Twitter user Clair Henry (via Nerdist) thought she might have spotted an alien version of Gary in the background of a publicity still, and when she asked The Last Jedi writer/director Rian Johnson about this, he confirmed that it was indeed Gary, decked out in full alien costume.
@rianjohnson we @FanthaTracks want to know if you can confirm this cute little creature is #spacegary in #TheLastJedi pic.twitter.com/0if7XRiqog

— clair henry (@irishgeekgirl) December 6, 2017
YES! Wow, good eyes.

— Rian Johnson (@rianjohnson) December 6, 2017
As you can see, while John Boyega's Finn and Kelly Marie Tran's Rose Tico face off in the foreground, the creature is in the background, enjoying the scenery of a Canto Bight casino. I kinda love that Gary appears to be the only thing in the room that's staring directly into the camera lens (Gary, that's fine for the talk show circuit, but not great for movies!).
The wrinkly little ball of joy appears to have some particularly bulbous eyes, and maybe even some wisps of gray hair protruding from its face. It's unclear to me whether that's actually the physical Gary Fisher, or just an alien creature meant to evoke the real Gary, but either way, it's cool that Fisher's beloved pet is now an official part of the fictional cinematic universe that meant so much to its owner.
Take a look at some photos of Gary from over the years, so you can be better prepared to spot him in the background when Star Wars: The Last Jedi arrives in theaters on December 15, 2017.
Back in early December with my mom and Graham on his show ✝️〰📧📧✝️ #3️⃣ #garyloveshismom 🐶❤️#garymisseshismom @grahnort @TheGNShow pic.twitter.com/H8o3JJ3zLc

— Gary Fisher The Dog (@IAMGaryTheDog) January 13, 2017
Here's a pic when we were in Edmonton in late September. I miss her so much 🐶. ✝️〰📧📧✝️ #2️⃣ #garymisseshismom #garyloveshismom #garyfisher pic.twitter.com/Jq8P7fL18b

— Gary Fisher The Dog (@IAMGaryTheDog) January 10, 2017
This is what I miss the most🐶😓. Ⓜ️✌🏻 1️⃣💲✝️ ✝️〰📧📧✝️#garyloveshismom pic.twitter.com/JpUiKicyNe

— Gary Fisher The Dog (@IAMGaryTheDog) January 9, 2017