'Slaughterhouse-Five' TV Series In The Works With 'Happy!' Showrunner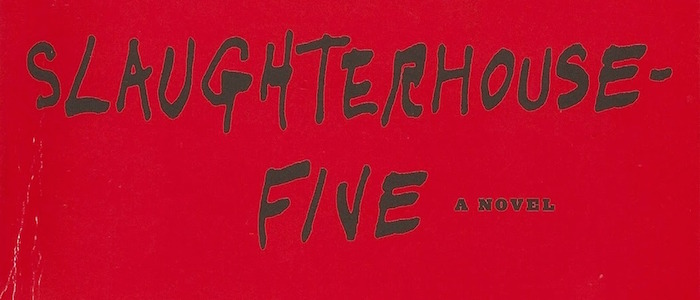 This may sound like a Bojack Horseman joke, but it's actual movie news and not a gag from a Hollywood satire that once featured an ongoing subplot about J.D. Salinger creating and running a trivia game show: a Slaughterhouse-Five TV series is in the works. Kurt Vonnegut's classic novel, a blend of blistering satire, wild science fiction, and heart-shattering anti-war tragedy, is being developed for the small screen and yeah, this is kind of weird.
Variety reports that Universal Cable productions is behind the series, which will be written and executive produced by Patrick Macmanus, who served as a showrunner on Netflix's Marco Polo and is an executive producer on Happy!, Syfy's new comic book adaptation. The other executive producers include Gale Anne Hurd, Jon Brown, and Bradley Yonover.
Originally published in 1969, Slaughterhouse-Five tells the story of Billy Pilgrim, who becomes "unstuck in time" and lives his life out of order. That means the novel bounces between his time as an unhappily married optometrist in New York, his stint as a captive in an intergalactic alien zoo, and his traumatizing experiences in World War II, where he survives the allied firebombing of Dresden by taking refuge in an abandoned slaughterhouse (inspired by Vonngut's own experiences during the war). Although sometimes dismissed by a generation forced to read it in high school, it's one of the finest American novels ever published, a pitch-perfect blend of science fiction and satire that cries for empathy into the gaping void of the universe. It's probably my favorite book of all time.
Still, I have no idea how it can be a TV show. While it was adapted into a well-regarded 1972 film, the novel is slim and Vonnegut's prose is sparse. Macmanus addressed this in a statement to Variety, saying that they are looking to expand the story based on small hints and details scattered throughout the book:
There are no lines that Vonnegut ever throws away. But there are certain lines within the book that allude to a much larger world. I'm not just talking about going off into outer space. He alludes to the Balkanization of the United States and to the hydrogen bombing of the United States. I feel like today's TV is the only way to tell this story. Even though it's only approximately 275 pages, I think that it's ripe to be expanded upon exponentially.
While other shows have borrowed from Vonnegut in the past (Desmond's storyline in Lost is heavily indebted to Billy Pilgrim), I can't imagine a Slaughterhouse-Five TV series really capturing what makes the novel tick. Once you remove Vonnegut's prose, you're left with a pile of ideas without a unifying voice. If this goes to series, I imagine it will be something like Amazon's The Man in the High Castle, which uses the work of Philip K. Dick as a launch pad to do its own thing. And at the end of the day, I think that's okay. Anything that encourages more people to read Kurt Vonnegut is fine by me.
There are no additional details available about the series (no network is attached and no dates are set), but we'll update you as we learn more.