'Jurassic World: Fallen Kingdom' Featurette Takes Us Behind The Scenes Of The New Film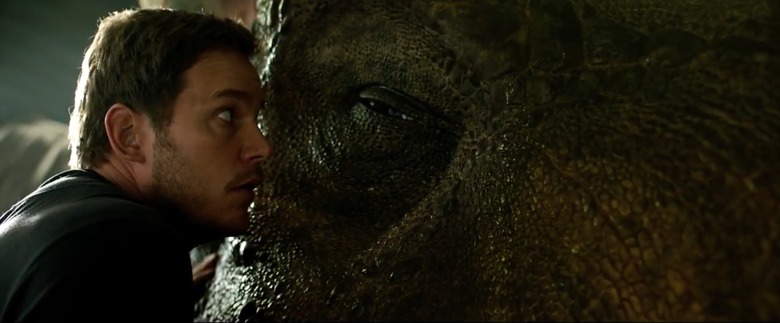 The veil of secrecy hanging over Jurassic World: Fallen Kingdom is about to be ripped right off – you only need to supply the "Ta-dah!" The first trailer for director J.A. Bayona's sequel to the 2015 franchise reboot arrives tomorrow, but a new featurette has arrived today, offering a behind-the-scenes look at the latest movie in the unstoppable Jurassic Park series.
Jurassic World: Fallen Kingdom Featurette
In addition to offering an extended look at the production of the film, the featurette also reveals a ton of new footage, including our first look at Jeff Goldblum returning as Dr. Ian Malcolm. However, what stands out the most is the emphasis on animatronic dinosaurs. Jurassic World received flak from fans for its reliance on CGI dinos and this featurette goes out of its way to showcase the robots and costumes and props that were constructed to bring these creatures to life this time around.
The featurette arrives shortly after a series of trailer teasers revealed the first footage from the film, showing off stars Chris Pratt and Bryce Dallas Howard doing what the people in these movies do best: run away from things. But there was a new wrinkle. In addition to running away from hungry dinosaurs, our heroes must now run away from the active volcano that threatens to erupt on Isla Nublar, obliterating the abandoned dinosaur theme park(s) that call the island home and the many prehistoric beasts who live there.
Yesterday, we received further information about the plot along with a new image showing off (you guessed it) a hungry dinosaur and some human-sized snacks. It seems that Howard's Claire has spent the years since the disaster at Jurassic World doing some serious soul-searching, abandoning the corporate life to focus on protecting the dinosaurs her former company built in a lab. So when a volcano threatens to wipe them out, she springs into action and gives Chris Pratt's Owen Grady a call:
"Claire's founded an organization, Dinosaur Protection Group, and they're finding a way to get these dinosaurs off the island. She reaches out to Owen Grady to let him know this is happening."
While I have mixed feelings on the first Jurassic World, audiences whole-heartedly embraced the film – it grossed $1.6 billion worldwide. People are as hungry for dinosaurs as dinosaurs are for people, it seems. However, the involvement of Bayona, the undeniably skilled filmmaker behind The Orphanage, The Impossible and A Monster Calls, is more than enough to grab my interest. Previous franchise directors Steven Spielberg, Joe Johnston and Colin Trevorrow built their reputations on crowd-pleasing fare (even Trevorrow's micro-budgeted Safety Not Guaranteed is an accessible piece of entertainment), but Bayona is a different kind of filmmaker, one whose movies have been ruthless, unforgiving, and emotionally nerve-wracking. We could be in for a very different kind of Jurassic movie.
Jurassic World: Fallen Kingdom opens on June 22, 2018.