Final 'Black Mirror' Season 4 Trailer Reveals An Official Release Date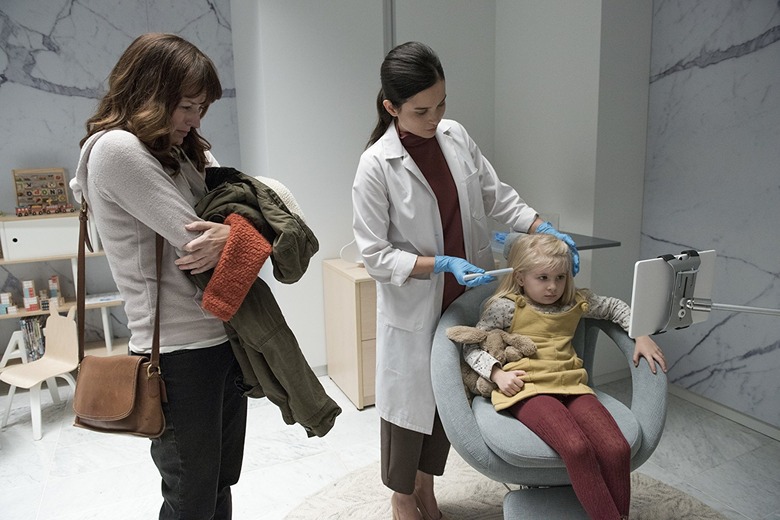 It's a brilliant — if slightly annoying — advertising campaign. Drop an individual trailer for each of the six episodes for your bleak, science-fiction anthology series, and watch us squirm as we lavish the brief clips with attention and theories. But you held out, didn't you Netflix? You wouldn't tell us the Black Mirror season 4 release date until well after we'd breathlessly covered each trailer.
And here we are, with a final trailer for Black Mirror and the coveted release date. And appropriately, it's released on a "Black Friday."
Netflix will premiere Black Mirror season 4 on December 29, 2017.
Two weeks after the streaming service began dropping trailers for each of its anthology episodes for Charlie Brooker's grim takedown of modern technology, Netflix has released a final trailer. The two-minute trailer combines each of the ads for "Arkangel," "Crocodile," "Black Museum," "Hang the DJ," "Metalhead," and "U.S.S. Callister" in a tense, ominous array of footage, before revealing the release date at the end.
Black Mirror Season 4 Release Date Trailer
Black Mirror has gained a reputation as a relentless science-fiction series, becoming one of Netflix's flagship genre shows and a source of brutal self-examination that explores how we use and depend on technology. The fourth season promises to live up to the widely lauded previous season, boasting high-profile directors like Jodie Foster, Toby Haynes, John Hillcoat, Tim Van Patten, David Slade, and Colm McCarthy, and stars like Breaking Bad's Jesse Plemons.
Here's the Netflix synopsis for Black Mirror season 4:
Black Mirror is an anthology series that taps into our collective unease with the modern world, with each stand-alone episode a sharp, suspenseful tale exploring themes of contemporary techno-paranoia. Without questioning it, technology has transformed all aspects of our lives; in every home; on every desk; in every palm – a plasma screen; a monitor; a Smartphone – a Black Mirror reflecting our 21st Century existence back at us.