/Answers: The Best Movies About Making Movies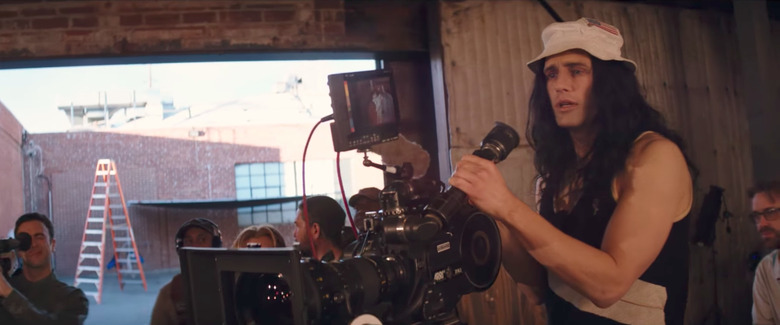 Every week in /Answers, we attempt to answer a new pop culture-related question. In this edition, we celebrate The Disaster Artist by asking "What is your favorite movie about making movies?"
Ben Pearson: Singin' in the Rain
As someone with an unabashed appreciation for big, bright, Technicolor crowd-pleasers, Singin' in the Rain is my favorite movie about filmmaking. There are undoubtedly cooler or sexier choices in this category, but this is not only one of the best musicals of all time, but one of the best American films ever made – period. Stanley Donen and Gene Kelly's riff on Hollywood in the late 1920s is one of the first films I saw that offered a detailed look behind the curtain of making movies, but even as it demythologized the actual process of filmmaking, it still manages to suck you in with its glamorous allure and effortless style. 
Practically everything about this movie is perfect: the structure (that flashback scene detailing how Don and Cosmo broke into the industry and how Don met Lina is masterful), the production design, and even when the movie dips into outright fantasy, it still manages to retain a cinematic weight because of Kelly's physicality and the jaw-dropping work of the film's dancers. Kelly, Debbie Reynolds, and Donald O'Connor are pitch perfect in the lead roles, and Jean Hagen practically steals the whole movie with her Oscar-nominated performance as Lina Lamont. The songs – though nearly all of them had previously appeared in other movies before they were popularized here – run the gamut of catchy, memorable, silly, emotional, and toe-tapping. If all that weren't enough, the movie is often laugh-out-loud funny, especially during the disastrous desynchronized test screening of The Dueling Cavalier (the movie within the movie). A wonderful comedy, a momentous musical, and a straight-up classic, Singin' in the Rain puts a smile on my face every time I watch it.
Ethan Anderton: Tropic Thunder
Take Three Amigos and mix it with Apocalypse Now and you get Tropic Thunder, the funniest movie about making a movie, which actually ended up being about the making of the most expensive fake true war story ever.
For my money, Tropic Thunder is one of the best comedies in this century so far. The assembly of talent across the board is incredible. Rarely do comedies get such a star-studded group of people together and create something worthwhile. But this is a movie that has Ben Stiller, Robert Downey Jr., Jack Black, Tom Cruise, Matthew McConaughey, Danny McBride, Steve Coogan, Nick Nolte and Bill Hader. That's an amazing cast, though in retrospect, I wish there were some recognizable women involved in this movie.
Anyway, Tropic Thunder effortlessly skewers the making of blockbusters, celebrity star power, awards season, and everything that has to do with Hollywood. Hell, this movie even has some hilarious fake trailers and advertisements before the story kicks into gear in order to give us background on each of the key players starring in the movie within the movie and sending up the tropes of action movies, studio comedies, celebrity endorsements and Oscar contenders.
But my absolute favorite part of Tropic Thunder is the character who Tom Cruise plays. Les Grossman is a mix of the angriest studio executives working in Hollywood. Covered under make-up and wardrobe that makes him unrecognizable, Tom Cruise delivered one of the best performances of his career. The scene embedded never fails to make me laugh, especially when he says, "Okay, Flaming Dragon, fuck face. Why don't you take a step back and literally FUCK YOUR OWN FACE!" I hope Tom Cruise lives forever.
Hoai-Tran Bui: Sunset Boulevard
Sunset Boulevard is so much more than a Gothic Hollywood noir. It's a blistering takedown of the studio system that values youth and beauty over everything else, a harrowing tragedy about an older woman obsessed with the past, and a love letter to the Hollywood screenwriter. As "big" as Gloria Swanson's Norma Desmond is — and she swallows up the screen as both the tragic figure and the monster that Hollywood created — it's often forgotten that the main character of Sunset Boulevard is William Holden's Joe Gillis.
A cynical screenwriter who has sold his soul to the moviemaking machine, Joe plays a thankless role in and outside of the context of the film. Holden's straight man is often forgotten in the face of Swanson's delirious scene-chewing, and Joe is fated to be forgotten as the victim and enabler of Norma's delusions. But director Billy Wilder, who began his career as a screenwriter, makes sure to paint Joe and his ilk with a sympathetic eye, condemning Hollywood and its prioritization of formula over creativity. Joe is one of the "cogs" in the Hollywood machine, but the pictures couldn't be made without him. As a screenwriter, he plays as an important part in films as the director, the crew, the star — and though our eyes are drawn to the fame-obsessed Norma, it is only through Joe's sacrifice that she can be made "big" again. "Audiences don't know somebody sits down and writes a picture," Joe bemoans in the film. "They think the actors make it up as they go along."
Sunset Boulevard is often brought up as the macabre foil to the many starry-eyed depictions of Los Angeles as the city of dreams, where fame and stardom can be achieved if you just try hard enough. But as much as it is a condemnation of Hollywood and how fame poisons its denizens, Sunset Boulevard is also a surprisingly warm depiction of the little people who work below the line. Just don't get involved with any washed up movie stars.
Jacob Hall: Ed Wood
"Really? Worst film you ever saw. Well, my next one will be better!"
I imagine that everyone who has ever stepped behind a camera will feel a connection to Tim Burton's Ed Wood. More than just a (often quite accurate!) biopic of the "worst director of all time," this film is a tribute to outsider artists and those with powerful, unique visions who simply lack the technical skill to actually realize them. As someone who dabbled with directing before realizing that he was no good at it and should never be allowed to call the shots on a film set ever, watching Johnny Depp's Edward D. Wood Jr. struggle to realize his personal (and baffling) visions hits home. Some people have a story. A great story. They just don't have the talent to realize it on screen. And there's something powerful and lovely about that. The greatest artists have the ability to bring their dreams to life. But others, the Ed Woods of the world, can only stumble forward, powered by optimism and an unbreakable will. Unshakeable and woefully untalented, Wood is one of cinema's greatest heroes. Its greatest dreamer.
Beyond that, Ed Wood really does capture the "let's put on a show!" spirit of low-budget cinema, a world that attracts a delightful combination of eccentric weirdos, spirited young artists, and blue collar technicians just hoping to collect a paycheck. Making a movie is really just a long process of a makeshift family somehow getting away with something. No film has ever captured that better.
Matt Donato: Boogie Nights
Movies about making movies – what average cinema attendee doesn't love a peek behind the proverbial curtain? Movies like Tropic Thunder or The Disaster Artist hilariously explore the mindset of "creative types" and how their wildest ideas are recreated on large – or small – scale stages. But to me, there's no better flick about the creation of art than Paul Thomas Anderson's infamous Boogie Nights, a porno empire period spectacle about '70s freedoms, '80s downfalls and the absolute insanity of filmmaking, explicit or not.
Lash Mark Wahlberg with Hollywood digs all you like these days, but the braggadocious Bostonian flashed audiences more than a glimpse of his acting prowess as starstruck leading hunk Dirk Diggler. A rags-to-filthy-riches story about such an isolated world of ridiculousness – the almost lawless porn industry – that parallels every meteoric high and crushing low felt by the most out-of-control celebrities. Heather Graham as a roller-skatin' hottie, John C. Reilly as a magic man, Burt Reynolds as the worshipped kingpin, Julianne Moore, William H. Macy, Don Cheadle, Philip Seymour Hoffman, Nina Hartley – all so distinctly characterized, caught up by fame/fortune/whatever their vice. Maybe even love.
Searching deeper, Boogie Nights takes all the preconceptions about "show business" and plays these subplots to a soundtrack of cussing and moaning. Burt's Horner faced with a changing industry and his desire to promote a legacy of quality (no, really, he's in it for the characters). Diggler overwhelmed by temptations, distractions from performance, schemes; battles that intensify when you're only encouraged and rarely told "No." We're reminded, over and over, that Horner's crew are mere humans despite their surreal lifestyles – everything looks great on camera, but what goes on behind the scenes if infinitely more interesting. And I mean, it's Paul Thomas Anderson pulling the strings. Jazzy chaos and madness forever reign.
Plus, what's there not to love about a movie featuring character names like Amber Waves and Reed Rothchild? The late Mr. Hoffman emotionally breaking down in incredible fashion. Macy ever the pushover gone too far. Drug robberies turned deadly, the sexiest kind of cinematic trash and yes, THAT Diggler moment. How good Boogie Nights is shouldn't be a dirty little secret – dare I say PTA's best?
Catch me in the right mood and I just might dare.
Chris Evangelista: Shadow of the Vampire
What if the star of your vampire movie really was a vampire? E. Elias Merhige's eerie, funny Shadow of the Vampire explores that question, and more, by telling the story of one of the best vampire movies ever made. In Shadow of the Vampire, it's revealed that  Max Schreck, the star of the silent movie Nosferatu, wasn't an actor buried in makeup, but rather an actual vampire, discovered by director F. W. Murnau. Murnau attempts to convince the rest of the cast and crew of Nosferatu that Schreck is simply a very committed method actor, but everyone has their doubts. Especially when the body count starts to climb.
Steven Katz's script takes what could've been a one-note joke and turns it into something more hypnotic, and ultimately more somber. Willem Dafoe is incredible as the centuries-old Schreck, struggling to fit-in among the living, and John Malkovich brings a tortured, wild-eyed madness to his portrayal of Murnau, playing the director as someone who would do anything (and I mean anything) to get his movie made. Anyone familiar with Nosferatu will get a kick out of this ghoulish tribute to the age of silent film.
Vanessa Bogart: Zack and Miri Make A Porno
I spent four years in film school, I have worked odd jobs on a handful of sets, I have seen firsthand the blood, sweat, and tears that go into making a movie, and boy oh boy, it can get tense. So, when it comes to the very meta experience of watching a movie about the making of a movie, I want something that makes me laugh away the all-night shoots, the endless cold coffee, and the pain of trying to mentally scratch the itch on your leg that you can't get as you have to stay perfectly still, hiding behind a couch while they are rolling. Yeah, it's a thing.
I find all of those desires fulfilled to complete satisfaction in Zack and Miri Make a Porno. As a tried and true Kevin Smith fan, this romantic comedy about two friends, played by the always hilarious Seth Rogan and Elizabeth Banks, falling in love over the course of making an amateur porno to pay the bills, is just about all I need in life. Ok, maybe not all I need in life, but this movie really is a gem. Although the actual 'making of' process is often pushed to the background, Delaney's (Craig Robinson) heartfelt speech in the final act, poetically describing how making this porno created an unlikely family amongst all involved, truly captures the magic and camaraderie that is ever present on set...however densely surrounded by a thorn-riddled thicket of stress.
It may be about a super low-budget amateur porn film, and not a big Hollywood production, but Zack and Miri Make a Porno really embraces the fun side of filmmaking. When you are forced to lean on and work with a group of strangers through long hours and strange conditions, you will almost always end up with a great story and a new friend. At the beginning of the film, Zack tells Miri that he wishes she would get a female friend, and by the end of their porn production, she has found a connection with the other two female stars of...well, I actually don't think I can say the name of their movie in this article.
I have always quietly wished for a sequel to Zack and Miri, if for no other reason than to get that perfectly imperfect group together again...and let's face it, we could all use a little bit more Brandon St. Randy.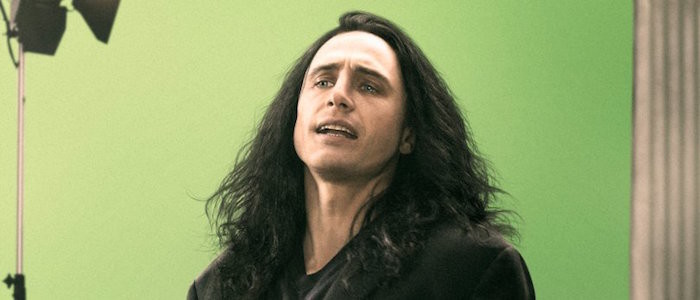 Previous Editions of /Answers