Lionsgate Drops 'Gotti' Biopic Starring John Travolta 10 Days Before Release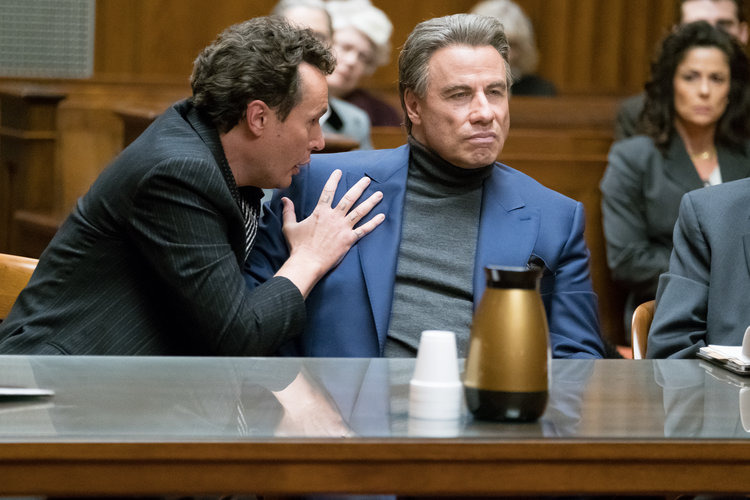 Leave Gotti, take the cannoli. 10 days before its intended domestic release, the mobster biopic starring John Travolta has been dropped by Lionsgate.
The film follows John Gotti (Travolta), the infamous head of the Gambino crime family, as he rises to notoriety in the late 1980s and brings his son into a life of crime.
The studio has sold the film back to its producers Emmett/Furla/Oasis Films and Highland Film Group and Fiore Films, the Tracking Board reports. The Emmett/Furla/Oasis production company now plans to shop it around to distributors for a 2018 release, rather than its planned December 15 date.
Shortly after the news broke, Travolta released a statement to Deadline saying that the original news was overblown and that he sought out a new financier to give the film a wider platform when Lionsgate only committed to a limited release. He has since teamed up with Edward Walson, the producer of Café Society and upcoming Wonder Wheel, to buy the film from Lionsgate and find a new theatrical distributor. Travolta said:
"Unfortunately, the reports were speculation bordering on fake news. Lionsgate was planning on a minimal release and I did an investigation into people who might have the interest and financial wherewithal to better release it. Ed is a fan of mine and of the Gotti story, and really wanted to see the movie. I invited his group, they saw it and bought it. That is the simple explanation for this. It wasn't dropped. It wasn't easy to get Lionsgate to give it up. They said no, twice, and I literally begged them to reconsider and they finally and generously let it go. We signed this deal about three weeks ago, to purchase back the film from Lionsgate. Our mistake was we should have said something right then, and discussed our plan for the film. We didn't anticipate this speculation that is so grossly wrong."
Gotti was likely meant as an Oscar vehicle for Travolta, who impressed in his Emmy-nominated turn as Robert Shapiro in the anthology TV series The People v. OJ: American Crime Story. It looked like Travolta was on a new career revival, but Gotti's release cancellation may bring that momentum to a halt — though, according to Travolta, a wide release may actually boost it.
The film was directed by Entourage star Kevin Connolly and also starred Travolta's wife, Kelly Preston and daughter Ella Bleu Travolta, as well as Pruitt Taylor Vince, Stacy Keach, Chris Mulkey, Lydia Hull, and Spencer Lofranco. The script was penned by Lem Dobbs (The Limey).
This wasn't the first time John Gotti's life was adapted to film. HBO released Gotti: The Rise and Fall of a Real Life Mafia Don in 1996 starring Armand Assante as the crime boss. Travolta told Deadline that his portrayal would dig into why a violent man became a sort of folk hero. "My style as an actor is to research and observe the behavior of a character and my goal was to accurately portray him to where you thought you were watching John Gotti, as I tried to do with Robert Shapiro [in The People v. OJ Simpson]," Travolta said. "I learned quite a bit about the family, the mafia and how things worked in that world. What I needed to know was why the public loved John Gotti so much. I was aware of it, because his fame paralleled when I became famous, but why was he so adored?"
Here is the official Gotti synopsis:
John Gotti rises to the top of the New York underworld to become the boss of the Gambino crime family. His life takes a tumultuous turn as he faces tragedy, multiple trials and a prison sentence.