'Molly's Game' Featurette Highlights Jessica Chastain's Unstoppable Performance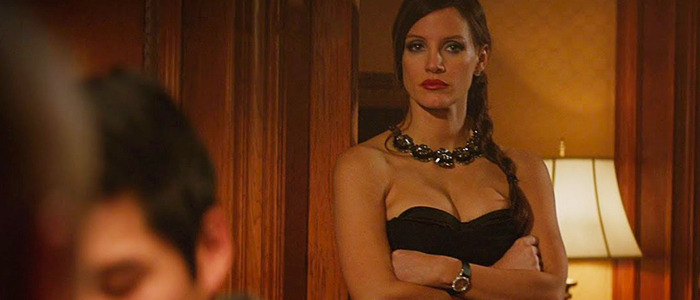 Writer Aaron Sorkin makes his directorial debut with the fast-paced Molly's Game. Sorkin is renowned for his lighting-fast dialogue, but that element lives and dies with the right actor or actress in the part. Thankfully, Sorkin cast the phenomenal Jessica Chastain as the lead of the film, and the actress delivers one of her best performances in the process. A new Molly's Game featurette highlights the plot of the film, as well as Chastain's performance.
After making a career for himself writing some of the best dialogue in film and TV, Aaron Sorkin had graduated to directing. His directorial debut Molly's Game covers the true story of "poker princess" Molly Bloom, who ran high-stakes poker games in Los Angeles and New York before running into trouble with the law. Like all Sorkin scripts, it's a fast and furious drama loaded with snappy dialogue, and the majority of that dialogue is delivered by Jessica Chastain. Chastain is one of the best actresses working right now, and she gives perhaps her best performance to date in this film.
A new Molly's Game featurette video takes you behind the scenes of the film, with Sorkin, Chastain, producer Mark Gordon, and even the real Molly Bloom herself discussing the film's story, and more. Check it out.
Molly's Game featurette 
Here's the Molly's Game synopsis:
MOLLY'S GAME is based on the true story of Molly Bloom, an Olympic-class skier who ran the world's most exclusive high-stakes poker game for a decade before being arrested in the middle of the night by 17 FBI agents wielding automatic weapons. Her players included Hollywood royalty, sports stars, business titans and finally, unbeknownst to her, the Russian mob. Her only ally was her criminal defense lawyer Charlie Jaffey, who learned that there was much more to Molly than the tabloids led us to believe.
Think of this video as the CliffsNotes for the film, running through the storyline and the characters in a quick, concise way. Overall, Molly's Game is an exciting film, even if Sorkin is a better writer than he is a director. Still, whatever the film's minor flaws, Chastain's dynamite performance is always front and center, wowing you at every turn. As I said in my TIFF review of the film:
This is Chastain's movie through and through. At this point in her career, it seems almost futile to keep repeating what an incredible actress Chastain is. What else is new? But once again, Chastain crushes it, storming through this film like a hurricane.
Molly's Game, starring Jessica Chastain, Idris Elba, Kevin Costner, Michael Cera, Jeremy Strong, Chris O'Dowd, and Bill Camp, opens on December 25, 2017 in limited release and January 5, 2018 nationwide.