'Iron Fist' Season 2 Adds Alice Eve To The Cast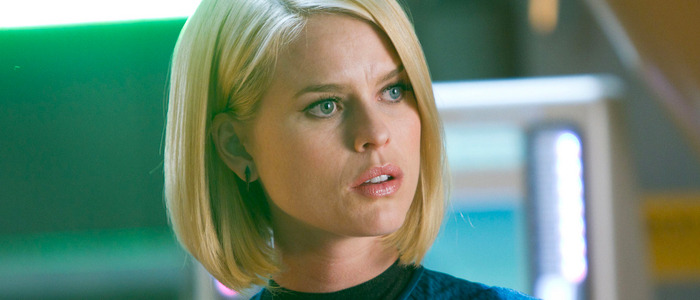 In case you forgot, everyone's least-favorite Defender is getting a second season! Iron Fist season 2 is currently in pre-production, and Star Trek Into Darkness co-star Alice Eve has just joined the cast. There are no details on Eve's role yet, but it's likely at one point she'll come in contact with Danny Rand and mutter "Ugh, you're the worst" under her breath.
Iron Fist was not the best of the Marvel Netflix shows, but that hasn't stopped Marvel and Netflix from forging ahead. Iron Fist season 2 got the greenlight in July, which means we'll be treated to further adventures of Finn Jones' disappointing hero Danny Rand, aka the Immortal Iron Fist, as he stumbles through a new adventure. And he'll have company: Star Trek Into Darkness and Black Mirror actress Alice Eve has just joined the cast, according to Marvel. There are no details about just who Eve is playing, but Jeph Loeb, Marvel's Head of Television and Iron Fist Executive Producer, had this to say:
"We are very excited to have an actress of Alice's stature join the cast of Marvel's Iron Fist. Her exceptional talent brings an intrigue and danger to her character unlike anyone else."
Perhaps the Iron Fist season 2 will be a pleasant surprise. After all, the series has hired a new showrunner, Raven Metzner. There's a good chance that Metzner will be able to rectify the mistakes of the first season and turn the series into something special. Anything is possible. Of Eve's casting, Metzner said:
"We're over the moon that Alice Eve is joining us this season. We think she's going to be a great addition to an already stellar cast."
Eve joins a cast that includes Jessica Henwick (who was the best element of Iron Fist and deserves her own series), Tom Pelphrey, Jessica Stroup, and Sacha Dhawan. The second season has "Danny Rand, The Immortal Iron Fist and Colleen Wing set off on a new adventure as the protectors of Chinatown in NYC – where death, action and surprises await them around every corner."
While Iron Fist season 1 could've been a lot better, I will concede that star Finn Jones seemed to find his grove with the character in the team-up series The Defenders. It also helped that Krysten Ritter's Jessica Jones was on hand to roll her eyes at nearly everything Dany Rand said. Maybe she can guest star in season 2 and do more of the same.