Kurt Russell Will Play Santa Claus For Netflix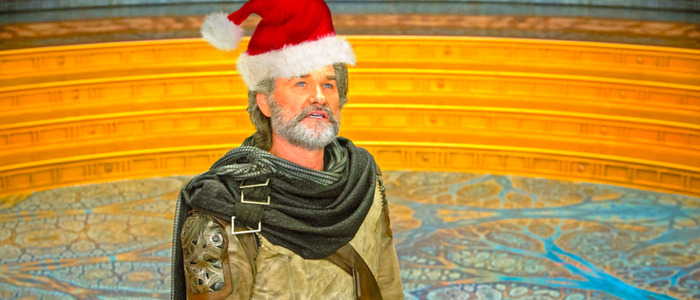 You better watch out, you better not cry, you better not pout, I'm telling you why: Kurt Russell is coming to town. Russell has just joined the cast of an untitled holiday movie in which he'll be playing Kris Kringle himself, Santa Claus. The plot involves two kids who accidentally crash Santa's sleigh, causing a major problem on Christmas Eve. Wacky hijinks follow. Read more about the Kurt Russell Santa Claus movie below.
Kurt Russell is about to join the ranks of Tom Hanks, Tim Allen, Ed Asner, Leslie Nielson, Paul Giamatti, Eric Roberts and many, many more as he slips on a bright red suit, grows a big white beard, and proceeds to force eight magic reindeer to do his bidding on Christmas Eve. That's right, the Hateful Eight and Guardians of the Galaxy Vol 2. actor will be playing none other than Santa Claus in a currently untitled Netflix holiday movie. The Hollywood Reporter reveals that Russell will star along young actors Judah Lewis (The Babysitter) Darby Camp (Big Little Lies) in a film that will mix live-action and CGI elements.
The Angry Birds Movie director Clay Kaytis is helming the film. Lewis and Camp will play two scamps who want to prove Santa Claus is real by capturing him on film, sort of like Bigfoot. Somehow, this plan backfires and causes Santa's sleigh to crash in Chicago. The kids then have to help Santa save Christmas, presumably after they sample some of that famous Chicago deep dish pizza.
This sort of sounds like the plot of The Santa Clause, only instead of Tim Allen as Santa, it's Kurt Russell. That's a big upgrade. The script for the film, which was originally titled 12/24, was penned by Matt Lieberman, who wrote the script for the long-in-development, still unmade animated reboot of The Addams Family. Chris Columbus, director of Home Alone and Harry Potter and the Sorcerer's Stone, is producing. Filming is set to begin in January, with an eye towards a 2018 holiday release.
This is obviously going to be aimed at younger viewers, but I'll probably watch at least some of this film just to see Russell take on the highly renowned role of Santa Claus. Russell continues to be one of our most dependable actors and he's experienced something of a resurgence lately, appearing in much-buzzed-about brutal westerns The Hateful Eight and Bone Tomahawk, the Fast and the Furious franchise, and big Marvel movie Guardians of the Galaxy Vol. 2.