Is Rose Tico In Star Wars: Episode IX? Kelly Marie Tran Doesn't Know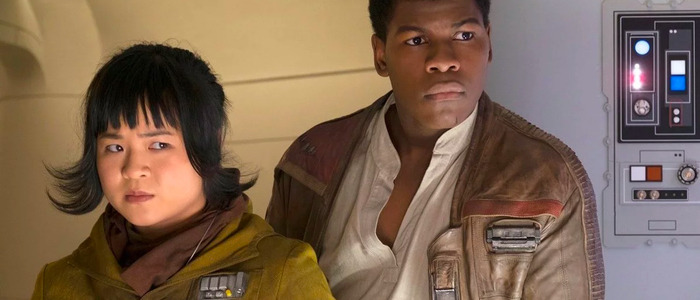 It may seem hard to believe, but Star Wars: The Last Jedi is only a little over a week away from release. Which means only one thing: time to start thinking about Episode IX! While it's safe to assume The Last Jedi characters Rey, Finn, Poe and Kylo Ren will find their way into Episode IX, what of brand-new characters like Kelly Marie Tran's Rose Tico? Tran says she doesn't know, but she would of course be game to return.
There are a lot of new elements in the upcoming Star Wars: The Last Jedi to get excited about: porgs, those weird crystal foxes, Laura Dern and her funky purple hair, and of course, Kelly Marie Tran's Rose Tico. An actress with a background in improv comedy, Tran is the first Asian American lead in a Star Wars movie, a fact she doesn't take lightly. "It's something that I think about a lot," she told Buzzfeed. "I just remember growing up and not seeing anyone that looked like me in movies."
We'll find out more about Rose when The Last Jedi hits theaters next week, but what about beyond that? Will Rose be returning for more? Speaking with Screen Rant, Tran was evasive about appearing in Star Wars: Episode IX – which makes sense, since she's probably trying to avoid spoilers. But the actress did say she would be more than willing to come back for more:
"First of all, I don't know if I'm in IX or not (Hums Twilight Zone theme) but I would like her to. First of all, I really and Rian has said this before, I think his idea behind writing this character was the idea like in many of the other films that essentially someone who is kind of this nobody, this background player, can face the challenges that come up and nobody can turn into sort of an unlikely hero. Maybe. If the story were to move forward with this character I would like to hope that we like further that idea, yeah."
That's a detailed way of saying "I might know something, but even if I did, I can't tell you right now." That said, it would be very surprising if The Last Jedi was the one and only film that features Rose, seeing as rumors persist that she has a major role in The Last Jedi. It would only make sense to continue her story onward into the "final" film in the current trilogy.
We'll know for sure what happens to Rose Tico when Star Wars: The Last Jedi hits theaters December 15, 2017.