'Black Lightning' TV Spot: The CW Debuts Its First Black Superhero Solo Series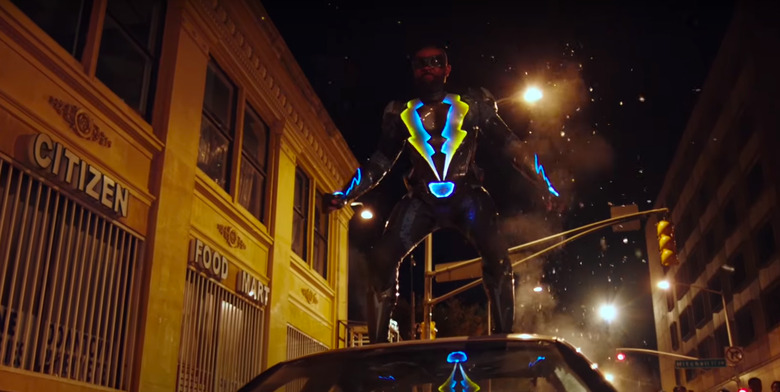 "Black Lightning is back," the latest trailer for the new CW DC Comics superhero show declares. It's an unusual choice of words for a series that introduces a little-known superhero to TV, but Black Lightning follows an unusual premise: the electricity-controlling hero Jefferson Pierce is a retired vigilante who returns to the world of crime-fighting.
It's the Jessica Jones story premise, and shades of Marvel's darker Netflix series can be seen in the newest show from CW superhero series stalwart Greg Berlanti, who is responsible for feeding us the comic book feast of Arrow, The Flash, Supergirl, and Legends of Tomorrow.
Black Lightning TV Spot
Though I can see echoes of Jessica Jones and Luke Cage in the new trailer for Black Lightning (the premise, the passerby cheering on the streets, the dramatic slow-motion descent of the villains), the new CW series most resembles Berlanti's first superhero series for the network, Arrow. Black Lightning plays like a gritty departure from the comic-book-style antics of cheery series like The Flash and Supergirl, and a return to the brutal Oliver Queen. There's even a piece of dialogue that mirrors Oliver's oft-spoken mantra: "this city needs you."
As an avid follower of Berlanti's Arrow-verse, I feel compelled to watch the premiere of Black Lightning — especially because the series will be the CW's first solo black superhero series. Plenty of superheroes of color populate the teams of Legends, Flash, Arrow, and Supergirl but in mostly supporting roles. That includes Vixen, who now appears on Legends of Tomorrow after making her solo debut on the network's digital streaming site the CW Seed in an animated series.
Jefferson Pierce may not be a well-known superhero outside of the comics realm, but his presence in the CW line-up is exciting in and of itself. If Black Lightning gets folded into the Arrow-verse like Supergirl, which first premiered on CBS, then we can look forward to an even greater crossover event than last week's delightful "Crisis on Earth-X."
Here is the official synopsis for Black Lightning:
Jefferson Pierce is a man wrestling with a secret. Nine years ago, Pierce was gifted with the superhuman power to harness and control electricity, which he used to keep his hometown streets safe as the masked vigilante Black Lightning. However, after too many nights with his life and his family on the line, he left his Super Hero days behind. Almost a decade later, Pierce's crime-fighting days are long behind him...or so he thought. But with crime and corruption spreading like wildfire, Black Lightning returns — to save not only his family, but also the soul of his community.
Black Lightning will premiere on Tuesday, January 16, 2018 at 9/8c on The CW.