'Here And Now' Trailer: A New Series From The Creator Of 'Six Feet Under'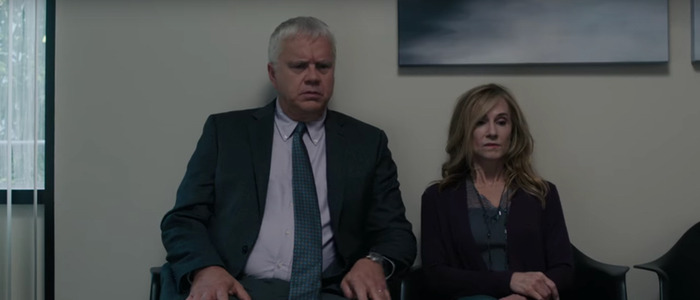 Six Feet Under and True Blood creator Alan Ball returns to HBO with the new drama Here and Now. The series focuses on a multi-racial, adopted family who find themselves under duress when one of their members begins seeing things. A new Here and Now trailer provides an early, deliberately vague look at the show to come, while hinting at much more.
HBO will be losing Game of Thrones soon as the series comes to an end, which means it's time for them to start rolling out more shows to fill that Thrones-sized void. Enter Here and Now, a new show from Alan Ball. Ball is responsible for one of the best HBO shows of all time, Six Feet Under (he's also responsible for True Blood, which I'll just ignore because I never cared for it). Ball's new series Here and Now features Tim Robbins and Holly Hunter as the leaders of a multi-racial, adopted family that includes their adopted children, played by Jerrika Hinton, Raymond Lee and Daniel Zovatto, and their lone biological child, played by Sosie Bacon. Watch the first Here and Now trailer below.
Here and Now trailer
This trailer is dreamy and deliberately vague, likely hiding bigger secrets, which we can surmise from the one-sentence plot synopsis: "A multi-racial, adopted family has themselves tested when one of them begins seeing things." The "family member seeing things" angle doesn't come up at all in this trailer, and hints at a show with a lot more on its mind than a simple family drama. That would be fitting for Ball, whose Six Feet Under operated under a similar philosophy, and blended familial drama with metaphysical, philosophical and even borderline-supernatural elements. When the series was first given the go-ahead at HBO (and was then still untitled), it had a more in-depth logline (via THR) that might reveal more than this trailer does:
This untitled series focuses on a contemporary multi-racial family: a philosophy professor, his lawyer wife, their three adopted children from Somalia, Vietnam and Colombia, and their sole biological child. This seemingly perfect, progressive family is in actuality harboring deep rifts. Then, one of the children begins to see things others cannot. Is it mental illness? Or something else? The series is a tragicomic meditation on the complicated forces at work on us all in America today.
Robbins and Hunter are both strong actors, particularly Hunter, who recently won rave reviews for her performance in The Big Sick. Hopefully, Here and Now will give her plenty of great material to sink her teeth into.
Here and Now arrives on HBO February 2018.