'Wormwood' Trailer: Errol Morris Uncovers A CIA Conspiracy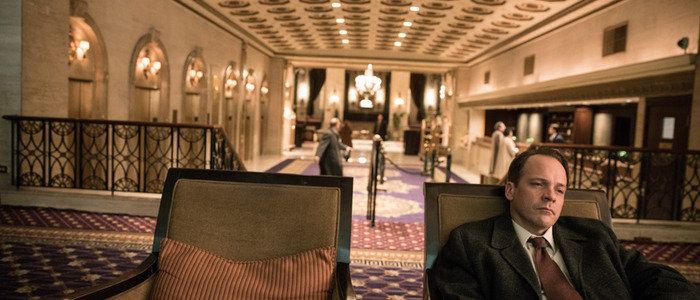 Sooner or later, Netflix gets everyone. Renowned documentary filmmaker Errol Morris is bringing his unmatched talents to the streaming platform with Wormwood, a genre-blending mix of documentary and narrative drama. Wormwood examines the can't-believe-it's-true story of one man's search to discover what caused his father's death. Was it suicide, or did a more nefarious conspiracy involving the CIA play a part? The Wormwood trailer teases the shocking saga ahead of its release this month.
Errol Morris has frequently employed dramatic reenactments for his documentary features. His acclaimed, ground-breaking The Thin Blue Line, which recreated events involving the murder of a police officer at a traffic stop, broke the mold and seemingly inspired every true crime documentary made ever since. But his latest doc Wormwood takes things to the next level. While still using Morris' trademark talking-head style interviews with subjects, Wormwood also features long stretches of dramatic narrative reenactments featuring actors Peter Sarsgaard, Molly Parker, Tim Blake Nelson, Jimmi Simpson and Bob Balaban. The results are striking, and really unlike any documentary in recent memory. This Wormwood trailer gives you a glimpse of what to expect.
Wormwood trailer 
Wormwood focuses on Frank Olson (played by Sarsgaard), a CIA employee who met an untimely end in 1953 when he leapt to his death from the window of a thirteenth-floor hotel room. Or did he? Olson's family, including his son Eric Olson, began to suspect there was foul play involved with the death, sparking a lengthy investigation that spanned decades and uncovered previously buried CIA secrets. Here's the official synopsis:
Directed by boundary-breaking filmmaker Errol Morris, Wormwood explores the limits of knowledge about the past and the lengths we'll go in our search for the truth through the story of one man's sixty-year quest to identify the circumstances of his father's mysterious death. Combining a virtuosic performance by Peter Sarsgaard with Morris' legendary interview style, Wormwood examines this case from every possible angle, bringing the viewer face-to-face with some of the United States' darkest secrets.
Morris is yet another high profile filmmaker who has been wooed by the folks at Netflix. The streaming giant already counts acclaimed filmmakers like Bong Joon-ho, Angelina Jolie, Noah Baumbach, and Cary Fukunaga among its ranks. Morris recently talked to Film Comment about working with Netflix and creating the episodic series:
"[I]t's episodic, so you have, in some sense, six separate films which are joined together. There's that ongoing issue of, how do you keep people interested, the necessity of constructing cliffhangers at the end of each episode to keep people coming back for more. And it allowed me to play all kinds of different games than I would have been able to play in something that was a straight feature. Maybe not impossible but certainly more difficult."
Wormwood arrives on Netflix December 15, 2017.