Daisy Ridley Doesn't Want To Leave 'Star Wars' After 'Episode 9'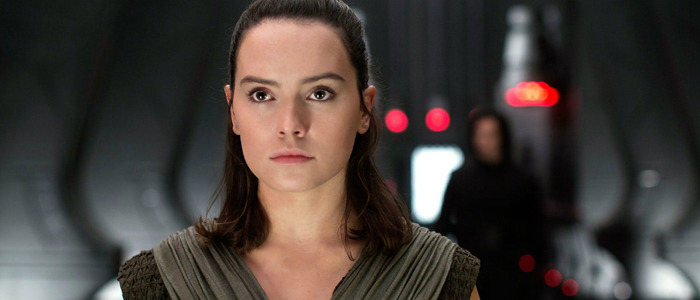 Last week, a Rolling Stone profile of Star Wars: The Last Jedi explicitly stated that actress Daisy Ridley "doesn't want to play the character [of Rey] after the next movie," and featured quotes from Ridley talking about how she sees the third movie in the trilogy (the still-untitled Star Wars: Episode IX) as a way to round out Rey's story. Well, apparently the writer was mistaken or those quotes were taken out of context, because thanks to a new interview, we now know that Daisy Ridley doesn't want to leave Star Wars any time soon. Read her clarification below.
On Wednesday, Rolling Stone published the following quotes from Ridley:
"No," she says flatly. "For me, I didn't really know what I was signing on to. I hadn't read the script, but from what I could tell, it was really nice people involved, so I was just like, 'Awesome.' Now I think I am even luckier than I knew then, to be part of something that feels so like coming home now." But, um, doesn't that sort of sound like a yes? "No," she says again, smiling a little. "No, no, no. I am really, really excited to do the third thing and round it out, because ultimately, what I was signing on to was three films. So in my head, it's three films. I think it will feel like the right time to round it out."
Now Ridley has clarified her statement in an interview with the BBC, and it sounds like she's not ready to walk away from that galaxy far, far away after all:
"When I did sign up, I did sign up for three films and that's where I sort of saw the story ending," she said. "I think everyone has perhaps taken that as me going, 'I don't want anything to do with it' which is vastly untrue because this is awesome."
Notice that she doesn't come out and say that she's definitely coming back for more? Seems as if Ridley has been learning from people like Robert Downey Jr, who cannily negotiate in the press for appearances in future sequels. Sounds like if Disney and Lucasfilm want her back, they're going to have to pay for it – and if she's interested, they should pay her whatever she wants, because she's an incredible talent who is the new face of this franchise.
And as I mentioned in our write-up last week, the notion that Ridley would want to leave seemed to be at odds with something Lucasfilm president Kathleen Kennedy said early last month: "We're looking at narratively where that might go; future stories beyond Episode IX with these new characters – Rey, Poe, Finn, BB-8."
So while Star Wars: The Last Jedi writer/director Rian Johnson moves into development on his new trilogy that's entirely separate from the Skywalker saga, it sounds as if Lucasfilm is certainly still interested in telling stories with these beloved new characters. That's not surprising, considering how popular they've become after appearing in just one movie, and as much as I'd like to see Ridley stretch her wings as an actress, there's also a part of me that would love to see her continue to find new layers to the character of Rey in more Star Wars movies in the years to come.