'Ant-Man And The Wasp' Could Be Marvel Studios' First Romantic Comedy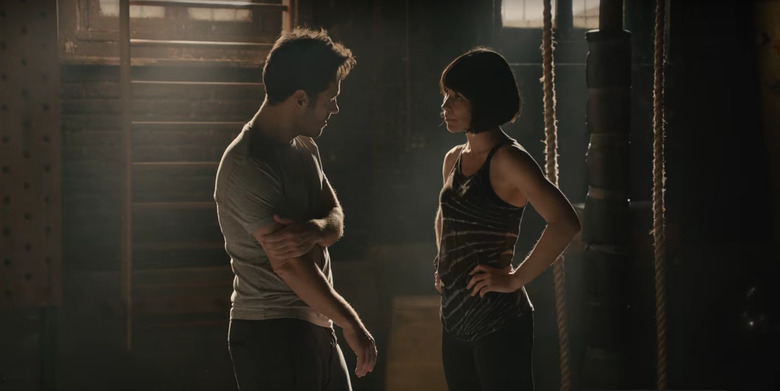 "Superhero fatigue" is a term that's been on the tip of everyone's tongues for the past decade, but for the most part, Marvel has managed to avoid that condemnation. Why? Because the comic book studio has put a genre twist on their standard formula for nearly every film: Captain America: The Winter Soldier was a political thriller, Guardians of the Galaxy flaunted its trippy space opera inspirations, Spider-Man: Homecoming recalled John Hughes teen comedies.
The first Ant-Man received the genre film treatment with a superhero twist on the heist movie, and its sequel Ant-Man and the Wasp promises to dip into a genre that Marvel has never touched before: the romantic-comedy. I mean, when you cast Paul Rudd, how could you not make a rom-com?
According to Kinometro (via Flickering Myth), a Russian website attending a Kinorynok film presentation by Marvel, a promo video for Ant-Man and the Wasp was introduced with the statement that it was "the first rom-com from Marvel."
If Ant-Man and the Wasp does indeed offer a rom-com twist to its superhero story, then it would indeed be the first romantic-comedy from Marvel. The previous films have skirted the genre with meet-cutes between its heroes and love interest like Steve Rogers and Peggy Carter in Captain America: The First Avenger or the crackling His Girl Friday-lite chemistry between Tony Stark and Pepper Potts in Iron Man, but never has a Marvel film dived fully into the genre. And like Evangeline Lilly's Hope van Dyne declares in the end credits of Ant-Man, it's about damn time.
Like I said before, Paul Rudd is a renowned comedy star, but he's first and foremost Josh from Clueless. Try as he might to subvert his dimple-faced teen heartthrob image with roles in satirical comedies, Rudd was made to be a rom-com star, and it's only fitting that he'll take on that role again as a superhero. Plus director Peyton Reed, returning after successfully pulling off the heist genre in Ant-Man, has a strong track record with rom-coms, blessing us with the iconic 2000 teen rom-com that was Bring It On (he's also helmed The Break-Up and Yes Man). Evangeline Lilly may not be as experienced in the realm of rom-coms as her co-star and director — or even co-star Judy Greer — but her few scenes with Scott in Ant-Man prove that she can manage. Yes, Ant-Man was severely lacking in relationship development and chemistry between Scott and Hope, jumping immediately to the two of them briefly kissing for the sake of the joke, but the sequel will hopefully will make up for that.
And then there's the casting of Michelle Pfeiffer as Hank Pym's wife Janet and the first Wasp. It's totally possible that I got distracted by Paul Rudd's cute face and didn't consider that the "rom-com" elements of Ant-Man and the Wasp could refer to Hank and Janet's tragic love story. And with Michael Douglas and Michelle Pfeiffer sharing the big screen together for the first time, it's never a better time to stick them in a sweet rom-com subplot.
Listen, despite all of the articles ringing in the death of the genre, I won't believe that the romantic-comedy is dead. The cheesy love story survives in other genres, like this year's Wonder Woman or in indie comedies like The Big Sick. Television shows are telling the best romantic-comedy stories since Bridget Jones wrote her last diary entry, with shows like Master of None depicting sincere, affectionate love stories.
Here is Marvel's official synopsis for Ant-Man and the Wasp:
From the Marvel Cinematic Universe comes a new chapter featuring heroes with the astonishing ability to shrink: Ant-Man and The Wasp. In the aftermath of Captain America: Civil War, Scott Lang (Paul Rudd) grapples with the consequences of his choices as both a Super Hero and a father. As he struggles to rebalance his home life with his responsibilities as Ant-Man, he's confronted by Hope van Dyne (Evangeline Lilly) and Dr. Hank Pym (Michael Douglas) with an urgent new mission. Scott must once again put on the suit and learn to fight alongside The Wasp as the team works together to uncover secrets from their past.
Ant-Man and the Wasp is set to fly into theaters on July 6, 2018.