'Pacific Rim Uprising' International Featurette: More Footage Of The Epic Sequel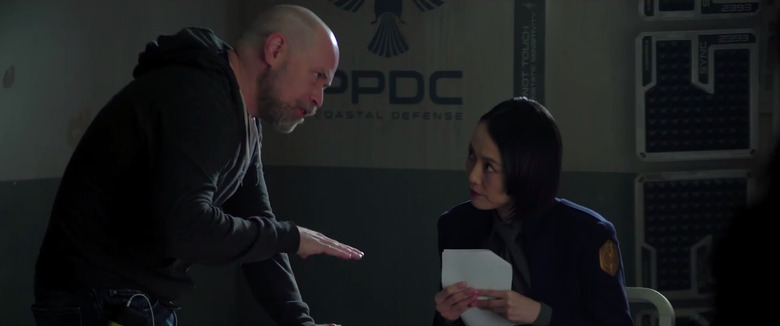 With all the inspiration that the Pacific Rim franchise draws from Japan, it's no surprise that Tokyo Comic-Con would get an exclusive featurette chock full of new footage of the upcoming Pacific Rim Uprising.
But there's more to this featurette than a flew splashes of new scenes and peeks at the behind-the-scenes production. This international featurette finally gives us a longer look at the return of Rinko Kikuchi's Mako Mori, the star and the warm, beating heart of Guillermo del Toro's original film.
Pacific Rim Uprising Featurette
"Everybody has felt that feeling of those monsters going through a city," star John Boyega says in the featurette. "It creates an instant excitement."
The next-generation stars of Steven S. DeKnight's follow-up to del Toro's 2013 love letter to monster-mecha anime excitedly declare Pacific Rim Uprising to be "epic" over new footage of the Jaegers in action. Newcomer Cailee Spaeny gets a spotlight as the Jaeger hacker Amara, while we see more of how the new Jaeger pilot team comes together in the face of a new threat from the Kaiju.
We see more scenes of the Kaiju wrecking cities and the Jaegers fighting each other, but the most important new footage comes 44 seconds into the international featurette: Mako Mori's return. We saw a blink-or-you'll-miss-it glimpse of her in the first trailer, but this is a certain confirmation of her return. Rocking a severe bob cut and an officer's uniform, she's obviously changed from her rebellious blue-streaked youth. The scenes we see of her are fairly unassuming: she's looking out from an airplane window, she's in an interrogation room. But there is a longer look at the scene where she speaks sternly to Boyega's Jake Pentecost, her adopted brother. We have no clue of what they're speaking about yet, but it's likely her persuading him to join the Jaeger program and take up the fight against the Kaiju once again.
Here is the official synopsis to Pacific Rim Uprising:
Rebellious pilot Jake Pentecost and his estranged sister must lead a brave new generation of fighters against otherworldly monsters that want to destroy humanity.
Pacific Rim Uprising's cast is rounded out by Charlie Day, Burn Gorman, Scott Eastwood, Jing Tian, and Adria Arjona.Pacific Rim Uprising hits theaters on March 23, 2018.