'Star Wars: The Last Jedi' Featurette: Heroes And Villains Train Hard For Battle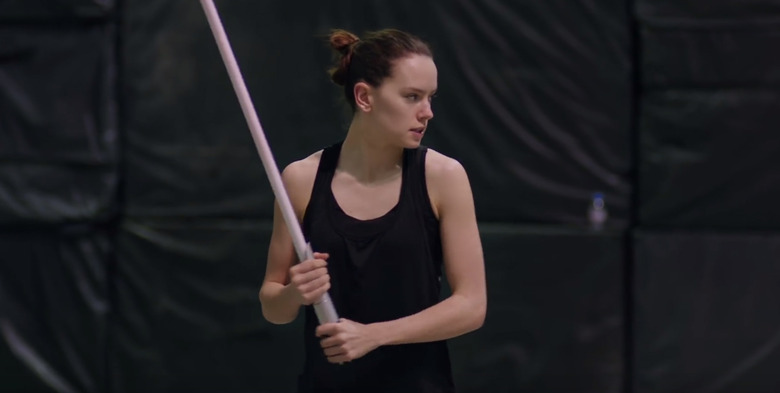 We've got less than two weeks until Star Wars: The Last Jedi hits theaters. While we're sure more footage from the movie is coming in various TV spots and other marketing before the film arrives later this month, the marketing department at Lucasfilm figured out another way to keep the hype going strong for the movie without really spoiling anything.
A brand new Star Wars: The Last Jedi training featurette has been released online, and it focuses on the actors from the sequel preparing for their action sequences. Of particular interest are the sequences involving Daisy Ridley and Adam Driver training for battle. We see the two sides of the light and dark wielding their weapons behind the scenes and on set, preparing for what will likely be another intense battle between good and evil.
Watch the Star Wars: The Last Jedi Training Featurette
In the featurette, we see assistant fight coordinator Liang Yang talking about working with Daisy Ridley, who apparently exceeded expectations when it comes to exerting all of her energy for this role. Yang says he was planning to need three days to teach her a certain sequence of moves for a training scene in The Last Jedi, but the actress learned everything she needed to know in just an hour and a half.
One of the more revealing aspects of the featurette is seeing new cast member Kelly Marie Tran in action. So far we've only seen some stills and very brief snippets of the actress in the film. Here we get to see her training to kick some First Order ass. Unfortunately, we still don't have any awesome shots of her from the movie, but it looks like she'll be quite the tough new characters.
Finally, seeing Adam Driver in action is quite an intense experience. He has such a powerful gaze while going through his fight training, and I can only imagine that when he and Ridley get together again for a second face-off, it will be rather spectacular. Speaking of which, during Driver's training sequences, it appears he's swinging his lightsaber against two stuntmen. If that's from an actual choreographed fight, that means that we might get to see Kylo Ren fighting Rey and Luke Skywalker at the same time, and that's something to be excited out.
We're sure there will be plenty more goodies about Star Wars: The Last Jedi revealed soon, so stay tuned to see what else we catch a glimpse of over the next 13 days before the movie arrives on December 15, 2017.