Expect Big Surprises From 'Fast And Furious' Spin-Off, Says Dwayne Johnson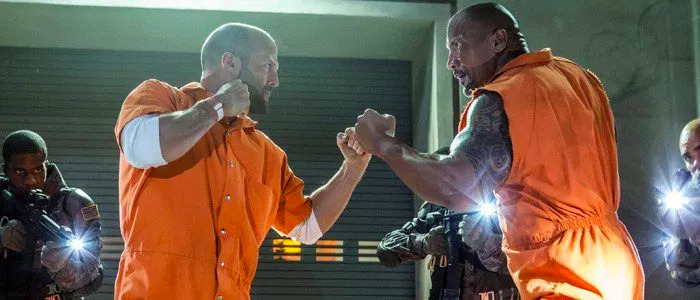 Get ready to get fast and furious all over again: that Fast and Furious spin-off with Dwayne Johnson and Jason Statham is currently in development, and it's going to deliver some big surprises. At least that's what Johnson said recently, while also promising some "big stars" are circling the film. The Fast and Furious spin-off should be speeding into theaters in 2019.
The Fast and Furious franchise has grown into a huge moneymaker, and the best way to capitalize on that is to make even more films. There's only so many Fast and Furious sequels you can make at a time, so Universal realized the next best thing was to develop a spin-off. That spin-off will feature  Dwayne Johnson's Luke Hobbs and Jason Statham's Deckard Shaw, two characters who should be enemies but who are now sort-of allies (I guess?). Details on the spin-off are vague – is it going to be like a Fast and the Furious sequel, or it's own completely different thing? We won't have any answers for a while, as Fast and Furious franchise writer Chris Morgan is still working on the screenplay. But Fast and Furious Franchise Viagra Dwayne "The Rock" Johnson has some morsels for hungry fans.
Speaking with Entertainment Weekly, Johnson promised that the Fast and Furious spin-off would have "a lot of surprises" and that "big stars" were circling the film. "At the end of the day, the only thing I want to do is make a great movie for the fans," the actor added. As for just why the Fast and the Furious franchise needed a spin-off, the actor had his own take on the idea:
"It's been a challenging process because I feel like my intention from day one, when I first joined the cast, was to hopefully come in, have fun, and create a character that people will hopefully like and try to elevate the franchise. But in the process of elevating the franchise, I have always thought that in order for this to have real longevity and legs, we should spin out and create characters that can live on their own."
I have to admit I love how Johnson doesn't even bother with humility here, freely claiming he elevated the entire Fast franchise with his presence alone. Of course, Johnson has every right to brag: he's an in-demand actor with killer charisma, and a slew of films on the horizon, including Jumanji: Welcome to the Jungle, Rampage, Skyscraper and an inexplicable San Andreas sequel, not to mention Fast and Furious 9.
The Fast and Furious spin-off is set to open July 26, 2019.