'Fahrenheit 9/11' Sequel In Jeopardy Due To The Weinstein Company Issues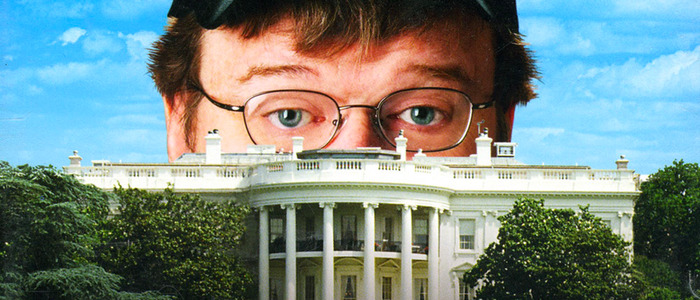 Documentary filmmaker Michael Moore was all set to make a sequel to his hit documentary Fahrenheit 9/11, and then The Weinstein Company came crashing down. TWC's Harvey and Bob Weinstein had originally committed $6 million to Moore's film Fahrenheit 11/9, but in the wake of sexual assault allegations against Harvey Weinstein and his ouster from the company, Moore no longer wants his Fahrenheit 9/11 sequel associated with TWC. Now a legal battle is brewing.
Michael Moore's anti-Trump documentary Fahrenheit 11/9, a quasi-sequel to his hit Fahrenheit 9/11, was all-set as a release from The Weinstein Company, but circumstances have changed. Following sexual assault allegations against TWC co-founder Harvey Weinstein, Moore wants to take the film elsewhere. But there's a problem: TWC had originally committed $6 million to the project, and Deadline reports the Weinsteins have spent $2 million on the film so far. As a result, TWC won't let Moore take the film to another company unless he pays back the $2 million – an idea that Moore has balked at, saying it would "morally compromise his film to cut a check to a man he considers a sexual predator."
If this ends up in court, Deadline says Moore plans to "undo the deal by alleging fraud against Harvey Weinstein, for entering into a deal on the film at a time he knew full well that his misconduct was being investigated and would soon be exposed." Of the potential legal trouble, Bob Weinstein said, "Michael Moore and I always have and still enjoy a good personal and business relationship. With regards to commenting on his future film, I think he would be the best person to speak with."
Fahrenheit 9/11 was a big deal when it hit theaters in 2004. Michael Moore's documentary chronicled the disastrous first term of then-President George W. Bush. The film was a box office smash, going on to become the biggest grossing documentary of all time – not that it did a lot of good in the long run, since Bush was still elected to a second term. When Fahrenheit 9/11 first came out, many of us incorrectly assumed that presidents couldn't come much worse than Bush. Little did we know that one day, tiny-fingered hate-monger Donald Trump would occupy the highest office in the land. Moore's Fahrenheit 11/9 will attempt to turn the same critical lens used on Bush toward Trump. Moore is currently working on the film.
Moore previously enjoyed a good working relationship with TWC, as this now very awkward and outdated tweet can attest to:
Yet the filmmaker has had legal troubles with TWC in the past. As Indiewire reports, Moore filed a lawsuit against TWC in 2011 over unpaid profits on Fahrenheit 9/11. That lawsuit reached a settlement in 2012.