Could A 'Justice League' Animated Series Reunion Actually Happen?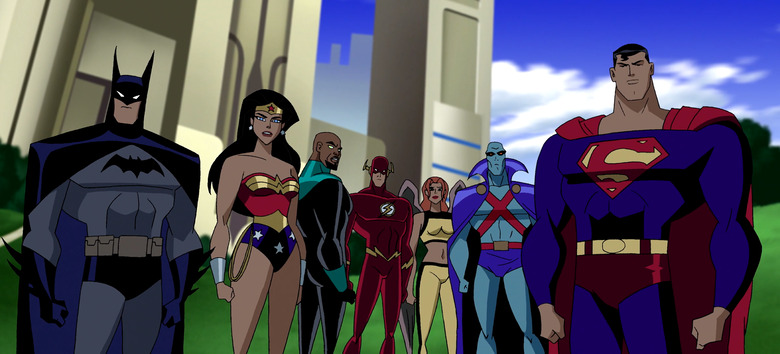 If the fans start a Twitter movement, they will come.
The Justice League animated series was a pivotal part of the millennial Saturday morning cartoon experience. It was part of a brief golden era of animation spearheaded by Bruce Timm, who created and co-created acclaimed animated series Batman, Superman, Batman Beyond, and Justice League, which would tie all of the shows together. It was the standard by which Warner Bros.' other forays into the DC Universe would be held (at least by '90s kids) and hasn't been topped. So, why not return to the golden days of optimistic and compelling storytelling by clamoring for a feature film reunion of our favorite cartoon superheroes? It might just happen.
It all began when a Twitter user spread the hashtag #JLReunion, asking fans of the Justice League animated series to petition Warner Bros. Home Entertainment for a reunion film. Several members of the voice-acting cast shared the tweet, and later confirmed to The Hollywood Reporter that they would return to voice the beloved superheroes for a reunion movie — if it happened.
Kevin Conroy, who voiced Batman for 25 years in properties in and outside of Warner Bros.' DC animated series and movies, told THR:
"I'm often at Comic-Cons across the country where I get to interact with the audience, and a frequently asked question is why there hasn't been a Justice League animated movie based on the animated TV series. There's a large and loyal fan base there that you'd think the studio would want to tap into. To me it's a no-brainer."
He was joined in agreement by Susan Eisenberg, the voice of Wonder Woman; George Newbern, the voice of Superman in Justice League and Justice League: Unlimited; Phil LaMarr, the voice of Green Lantern; and Michael Rosenbaum, the voice of The Flash. Rosenbaum has been a DC Comics steadfast on TV, playing Lex Luthor for 10 years on the CW's Smallville series. He told THR:
"Why it was prematurely cancelled always baffled me. I'd be honored and grateful to be a part of any sort of reunion with all the beautiful people associated with this show."
Justice League ran for two seasons on Cartoon Network, and was followed up by the expanded Justice League Unlimited for three seasons. Sure, on the short end when you consider animated series like The Simpsons has run for more than two decades, but it was a sizable amount for a serialized superhero series. But while the final season of Justice League Unlimited didn't leave on a cliffhanger — wrapping up the DC Animated Universe in the indelible Batman-centric episode "Epilogue" — it did kind of just...end without resolution. A reunion movie bringing back all the voice actors — as well as Justice League voice director Andrea Romano who has allegedly promised to come out of retirement for the movie — would bring a satisfying end to the DCAU.
It's not uncommon for fan demand to bring a series back from beyond the grave. Kickstarter funded the Veronica Mars movie, Netflix renewed Fuller House and Arrested Development, and years before crowd-sourcing was a thing, Joss Whedon finished his Firefly saga with the theatrical release of Serenity. Sure, the actual creative and critical success of these revived properties are questionable, but we all want to revisit our favorite things from childhood. Especially when the alternative is the grim, uncertain future of the DCEU.
And I'll take the will-they-won't-they romance between a cartoon Batman and Wonder Woman over Diana/Bruce tension in the live-action Justice League any day.