Margot Robbie Is Working On Another 'Harley Quinn' Movie – No, Not That One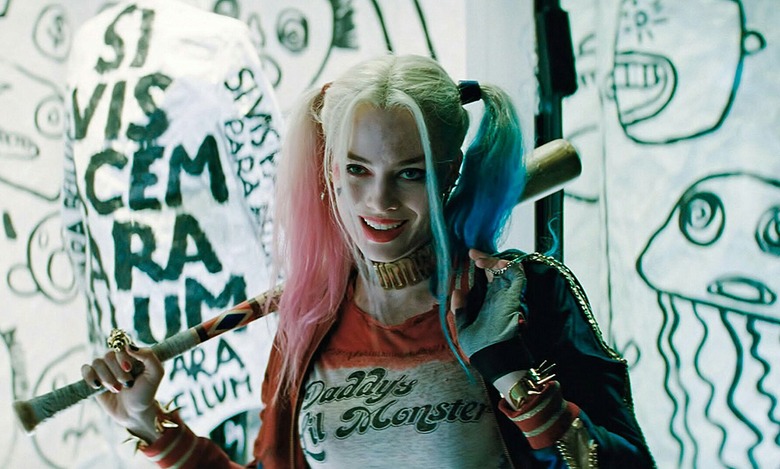 With Suicide Squad 2, Gotham City Sirens, and a Joker and Harley spin-off in the works, Harley Quinn is about to be all over our big screens. And Margot Robbie says you can add one more Harley-centric project to your bucket list: a solo movie.
As one of the breakout characters of David Ayer's massively uneven Suicide Squad, Harley Quinn has become the other female favorite of Warner Bros.' DC Extended Universe. And while Wonder Woman will headline her second solo movie and become the central figure of the Justice League sequels (if they actually happen), it looks like Harley is going to get the spotlight on the other side of the tracks.
Margot Robbie teased to MTV that she is working on a Harley Quinn project separate from David Ayers' Gotham City Sirens film, following an all-female anti-hero team that Harley leads including Poison Ivy and Catwoman, and the Harley and Joker spin-off that has been reported to be in the works.
In an interview with Robbie, MTV host Josh Horowitz inquired into the status of these projects, which would essentially require Robbie to be filming three separate superhero films at the same time. Not to mention the fact that Robbie has been reported to take on a producer role for Gotham City Sirens. But apparently that's not enough work for Robbie, who teased that she's working on a "separate spin-off of Harley."
"Yeah I've been working on it for two years now," Robbie said of the unnamed Harley-led project that she's been producing. "I've been working on a separate spin-off of Harley for a while now."
When Horowitz asked whether she meant Gotham City Sirens or the Harley and Joker spin-off, she coyly replied, "It's a totally separate one."
.@MargotRobbie is working on her own female-centric Harley Quinn movie. pic.twitter.com/kEbKVxjwO9

— MTV (@MTV) November 30, 2017
Harley Quinn has taken over everything from Halloween parties to Hot Topic T-shirts, so it's no surprise that Warner Bros. would want to tap into her ever-growing popularity. Margot Robbie too has become a "hot topic" of her own so to speak, with her acclaimed turn in the upcoming I, Tonya garnering her awards buzz and her circling of the role of Sharon Tate in the upcoming ninth Quentin Tarantino movie.
However, Robbie's vague statements could also mean that she's speaking of one of the Harley projects that have already been reported, particularly Gotham City Sirens, which she is executive producing. And the way that Robbie describes her plans on where to take Harley sounds incredibly similar to the premise of Gotham City Sirens, which pairs Harley with her best partner in crime, Poison Ivy:
"I want to see her with other women.... I kept saying when we were shooting Suicide Squad, she needs her girlfriends. She needs other girls around her because she loves that. You see that in the comics, she loves meeting people, any people, but she needs her girl gang."
So this could be a classic case of misspeaking in an interview, especially with Robbie's increasingly cluttered schedule. But a Harley solo film could be in the works, especially as Warner Bros. attempts to lay a solid foundation for the DCEU after stumbles with Batman v. Superman and Justice League. Who knows? Harley could be the DCEU's knight in tattered, rainbow-colored armor.