'Stranger Things' Season 3 Given The Green Light By Netflix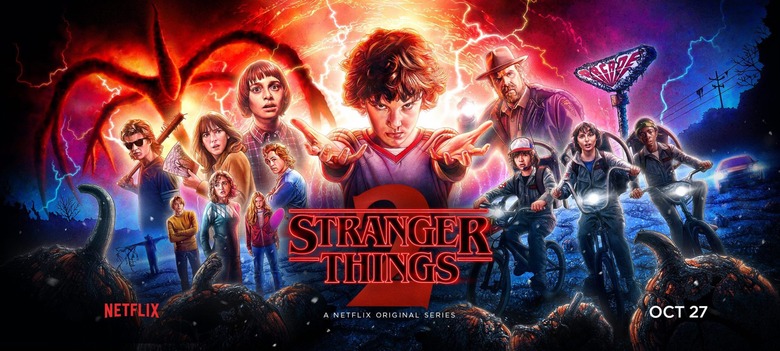 Hey, have you heard of this little show called Stranger Things? It's on Netflix. You should check it out. It takes place in the '80s and blends horror and science fiction and nostalgia together in a satisfying mixture that may strike a chord with you. I don't know...I think it could be the kind of thing people really, really like if they give it a chance!
Okay, enough jokes: Netflix has done the obvious and officially ordered Stranger Things season 3, because of course they're going to keep their most popular show going. This was a foregone conclusion, but at least it's all nice and official now.
Netflix revealed the news on Twitter and even they treat this announcement with a pinch of humor. Everyone knew this was coming, but you've got to cross those t's and dot those i's.
FOR THE LOVE OF STEVE, DUH! So hold tight baby darts — season 3 is officially happening.

— Netflix (@netflix) December 1, 2017
2017 was one hell of a year for Netflix's new flagship series. The first season won its fair share of awards to go alongside the critical accolades from its debut in 2016 and the second season (otherwise known as Stranger Things 2) dominated the pop culture conversation for weeks when it debuted in October. While the /Film staff was mixed on the sophomore season (it has its ardent defenders!), there's no denying the fact that people love this show and that there's more than enough juice in it to power a few more seasons. Five seasons seems to be the current plan, but that could always change.
So, what do we know about Stranger Things season 3? According to series creators Matt and Ross Duffer, the third season will be weirder and more character based. We also know that a few new characters and at least one previously deceased character will return in some capacity. And yes, the final shot of season 2 is totally teasing the new season, which suggests that things aren't going to go well for our heroes. However, the Duffer Brothers also note that they're beginning season 3 with a clean slate, suggesting that anything can happen from this point onward:
Last year, we had a lot of little cliffhangers at the end of the season. We didn't want to do that again. We didn't want to box ourselves in for season three. We wanted to be able to start season three on a very clean slate. It felt totally unnecessary, when we had the Snow Ball. Once we had the Snow Ball, we didn't know [if we wanted to do] anything else as an ending.
Stranger Things season 3 doesn't have a release date yet, but you can expect it to arrive around October 2018.