'Black Mirror' Season 4 Trailer: 'Hang The DJ' Tries To Find Your Perfect Match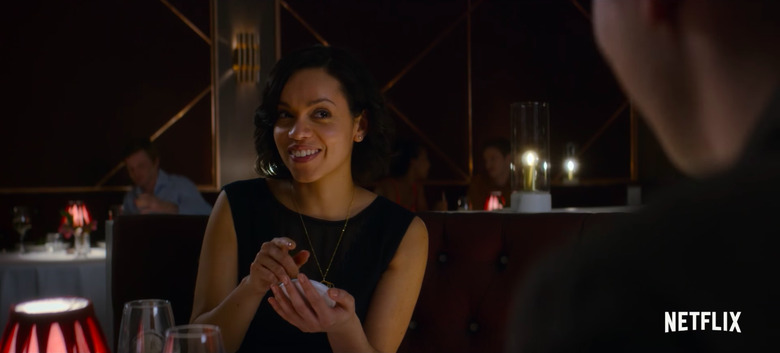 Black Mirror season 4 continues rolling out the individual trailers for each of its episodes in the lead-up to its (still unannounced) premiere in 2018. This time, the techno-dystopic anthology series introduces the whimsical romance story "Hang the DJ," which takes a withering look at the dating app scene. Yes, it's trying to make you look guiltily at your Tinder app.
Black Mirror Season 4 Trailer
The quirky tone and upbeat jazz song of this episode's trailer indicates that "Hang the DJ" may not be kind of soul-crushingly bleak send-up of technology that we've come to associate with Black Mirror. The episode spotlights dating apps gone wrong, with one ubiquitous app, Spiro Date, pairing people on blind dates for a limited number of hours.
"Join the system, love the system," the text ominously displays in the trailer, a huge tonal contrast to the jaunty, comedic tone of the episode. "Everything happens for a reason," the robotic voice of the app says at the conclusion of the trailer.
The trailer gives off shades of Yorgos Lanthimos's The Lobster, which presented a dystopic society in which people were forced to either be paired off in couples or turned into animals. It's yet to be seen whether "Hang the DJ" will take a similarly dark and traumatizing turn as The Lobster did — or any other Black Mirror episode, really.
Directed by Tim Van Patten (The Sopranos, Game of Thrones), "Hang the DJ" stars Georgina Campbell, Joe Cole, and George Blagden, and of course, written by the show's creator Charlie Brooker.
"Hang the DJ" is the latest Black Mirror season 4 trailer, following the release of trailers spotlighting "Arkangel" and "Crocodile," as well as "The Black Museum."
Here's the Netflix synopsis for Black Mirror season 4:
Black Mirror is an anthology series that taps into our collective unease with the modern world, with each stand-alone episode a sharp, suspenseful tale exploring themes of contemporary techno-paranoia. Without questioning it, technology has transformed all aspects of our lives; in every home; on every desk; in every palm – a plasma screen; a monitor; a Smartphone – a Black Mirror reflecting our 21st Century existence back at us.
No release date for Black Mirror season 4 has been set yet by Netflix.