'Star Wars: The Force Awakens' Ending Changed At The Last Minute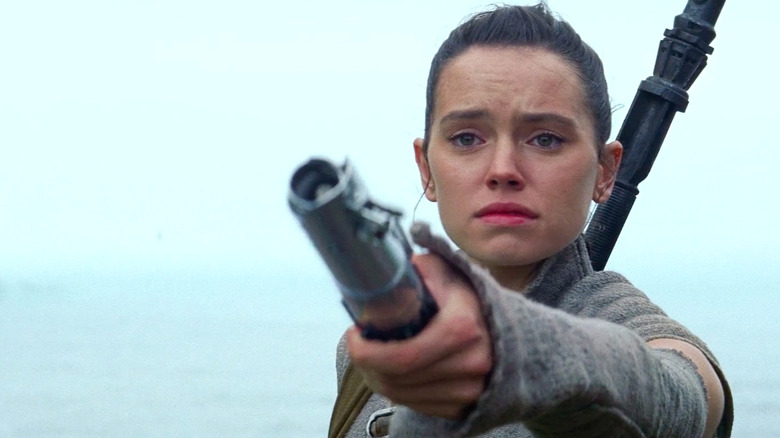 Writer/director J.J. Abrams was nervous when he first showed actor Mark Hamill the script for Star Wars: The Force Awakens. As you all know, Luke is referred to throughout the movie but isn't seen until the final seconds, and even then he has no dialogue. "The last thing I wanted to do was insult a childhood hero," Abrams said in a recent interview, "but I also knew it was potentially one of the great drumrolls of all time."
Now that we're a few years removed, I think Abrams was right. Regardless of how the rest of the current Star Wars trilogy plays out, the Star Wars The Force Awakens ending is legendary. But now Hamill says that the ending was actually changed at the last minute. What could that change have entailed?
In an interview with Empire (via ScreenRant), Hamill explained that he was worried about the ending of The Force Awakens because it didn't fit with what Rian Johnson was going to do with the Luke character in Star Wars: The Last Jedi.
"There was something that happened at the end of The Force Awakens when I'm standing on the cliff. I called Rian in a panic because it was all wrong. He said, 'It's okay, I spoke to J.J. and he's taking that scene out.' It just didn't match up with what Rian had written."
What could he be referring to? We previously knew that Johnson asked Abrams to make sure R2-D2 goes with Rey to Ahch-To instead of BB-8. Could that be what Hamill is referring to here? Maybe BB-8 was originally going to somehow roll up those stairs alongside Rey to meet Luke, and Hamill knew that wouldn't work with what was coming later? Possibly.
But I like a theory floated by /Film's Peter Sciretta better. He was speculating that maybe The Force Awakens originally ended with Rey handing Luke his old lightsaber, the old Jedi ignites it, and the movie cuts to black on that moment. It would make sense for Johnson to ask Abrams to change that up if The Last Jedi's version of Luke is a more reluctant, burnt out figure, someone who wouldn't be interested in igniting that lightsaber and reliving old wounds. Granted, that's just a theory, but it seems plausible to me.
What do you think happened that freaked Hamill out at the time? Personally, I like to imagine Abrams planned for Luke to lose his balance, comically flail his arms in huge circles, and fall backwards off the cliff, leaving Rey to wonder if he lived or died as the film cuts to black. Now THAT would have been one of the great drumrolls of all time.