The Most Rented Redbox Movies Reveal That America Is Basic AF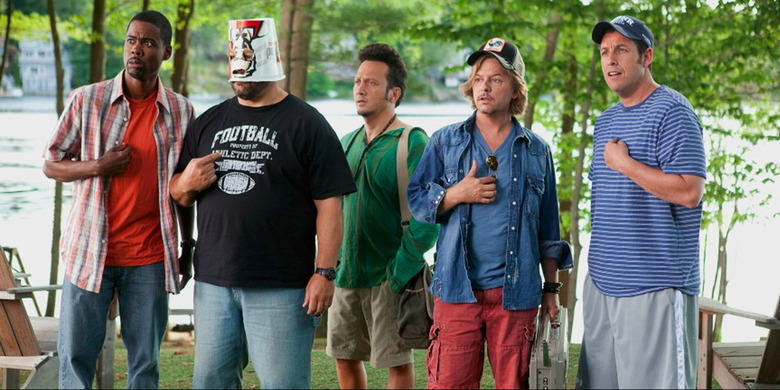 Movie theaters may be losing audiences at an alarming rate, and the streaming service field may be increasingly cluttered, but at least we'll always have home video, right? Right...?
Renting a physical DVD or Blu-ray of your favorite movie still hasn't lost its magic, even when the renting process shifted from your local rental store (RIP) to the bright red kiosk that populates every superstore or drug store. And while Blockbuster and local video stores were put out of business long ago, Redbox has stuck around, handling a vast percentage of physical movie rentals. In honor of its 15 anniversary this year, Redbox has released its top 15 movie rentals. And this list is...erm...a bit disappointing.
Boasting more than 41,000 kiosks across America and handling approximately half of the country's physical media rentals, it seems like Redbox would give a fairly accurate snapshot of the general public's tastes in movies. And I have to say, their taste is bad.
Not only does the list of most rented Redbox movies include not one, but two (!) Adam Sandler movies, there are middling comedies like Identity Thief and We're the Millers taking up slots in the top 5. (Okay, We're the Millers is actually not bad.) You could excuse America by arguing that Redbox only began in 2002, so the selection was limited to the biggest blockbusters and wide releases of the past 15 years. But then where is Mad Max: Fury Road or Gone Girl? Why two Adam Sandler movies? Now I guess I understand why Netflix gave Sandler a four-movie deal.
Here is the complete list of the top 15 rented movies on Redbox (via Uproxx):
The Hunger Games
21 Jump Street
Identity Thief
The Avengers (2012)
We're the Millers
The Heat
Flight
Grown Ups
Just Go With It
The Wolf of Wall Street
Captain Phillips
The Hunger Games: Catching Fire
World War Z
Divergent
White House Down
You can divide America's interest into a few categories: tentpole movie franchises, crowd-pleasing awards fare that your dad has been itching to see, movies starring Channing Tatum, movies starring Melissa McCarthy, and movies starring Adam Sandler. Also that zombie movie with Brad Pitt looks pretty good, we should rent that for movie night.
Forget Forbes' lists of top-paid actors and actresses, we should look to Redbox to know what America really wants! In all honesty though, this list doesn't surprise me one bit. Why go see Blade Runner 2049 in theaters when you can settle down on your couch and fall asleep to White House Down? To borrow a personal anecdote, when hanging out with my cousins recently, I suggested watching Gerald's Game on Netflix (which I kind of knew was a lost cause). We watched the Jackie Chan-John Cusack abomination Dragon Blade instead. And you know what? Everyone had a good time.
Because let's admit it: America, ya basic.