'Mindhunter' Season 2 Officially Announced By Netflix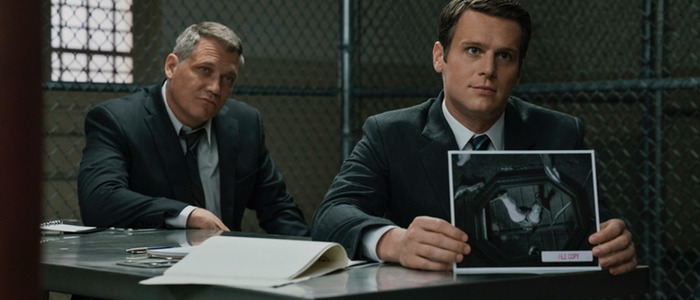 Mindhunter, the Netflix drama series about the early days of criminal profiling that features David Fincher behind the camera and Jonathan Groff in front of it, has been officially renewed for a second season. While Netflix hasn't been quite as brazen with its renewals in the past year or so, this news shouldn't come as much of a surprise – the series did what the best TV shows do and dominated the pop culture conversation for a solid window when it premiered last month.
The renewal announcement was accompanied with a brief video teaser, which you can watch below. There's no footage (nothing has been shot yet!) and no release date (you probably have to wait about a year or so!), but fans of the grim crime series can take comfort in knowing that more is on the way.
On a purely anecdotal level, I knew that Mindhunter was going to stick around for awhile during the Thanksgiving holiday, when I learned that even my in-laws had embraced this unsettling, slow-burning drama series about serial killers and the men who study them.
While official details on Mindhunter season 2 have yet to be revealed, it has been previously suggested that the second season would feature the Atlanta child murders, a gruesome series of homicides that took place from 1979 through 1981. The real case involved FBI agent John E. Douglas, who serves as the inspiration for Groff's Holden Ford in the show.
And the sad truth is that the mere existence of serial killers in 20th century America means this show could continue for years to come. As our own Chris Evangelista noted in his review of the first season:
Mindhunter is a series of limitless potential simply due to the tragic fact that serial killers will always exist. The show may start in the '70s, but it can continue to stretch onwards, well into modern times. At the start of several episodes, we get a glimpse of a mysterious man (Sonny Valicenti), methodically assembling things he needs to commit murder. Mindhunter never tells us just who this individual is, but anyone familiar with serial killers will be able to pick up on the fact that this is supposed to be Dennis Rader – the BTK Killer, a serial killer whose crimes began in the 1970s and didn't come to an end till 1991. And even then, Rader wasn't apprehended until 2005. For over 30 years, the BTK Killer was out there, hiding in plain sight. That's the truly frightening element of Mindhunter – serial killers like Rader are out there, right now, waiting, and planning. In the final interview before his execution, serial killer Ted Bundy warned, "We are your sons and we are your husbands." Monstrous men like this will always exist. The only comfort we can take is in hoping there were always be individuals, like the characters of Mindhunter, working to stop them.
Since Netflix tends to keep to a pretty tight schedule, you can probably expect to see Mindhunter season 2 around October 2018.