Now Stream This: A New Martin Scorsese Masterpiece, A Shane Black Christmas Comedy, And A Movie About A Bad President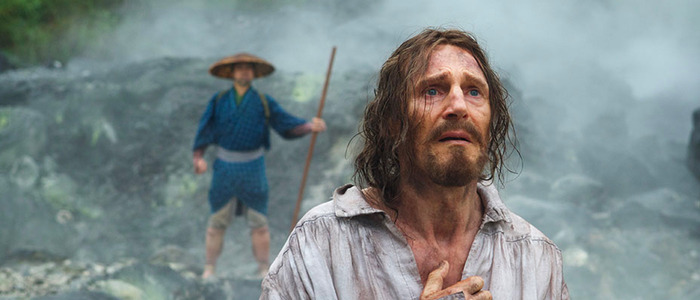 (Welcome to Now Stream This, a column dedicated to the best movies streaming on Netflix, Amazon, Hulu, and every other streaming service out there.) 
Happy Holidays, I guess. As we wind down the clock on this garbage year, let us take time to appreciate the few good things in life: movies. Where would we be without movies? The answer, I think, is the grave. Or maybe I'm exaggerating. Either way, there's something comforting about tuning out the world for two hours or so and engrossing yourself in a moving piece of entertainment (unless you're one of those jerks who looks at their phone through an entire movie; stop that, kids).
If you're looking for some streaming recommendations as the days grow shorter and winter arrives, look no further. I've assembled a hearty helping of films for you to sample. There's a new Martin Scorsese masterpiece, a Shane Black comedy, a film about a ranting, raving president (no, not the current one), a suburban Western, and more! Here are the best movies streaming right now! So let's get streaming.
Streaming on Amazon Prime Video 12/1/2017
With Silence, Martin Scorsese made one of the best films of his career, and one of the best films of the last five years. And nobody bothered to see it. I get it: the film, about a tormented monk, doesn't exactly scream "box office gold." But it still would've been nice if the film had found an audience. If you missed Silence in theaters (and I'm sure many of you did), you're in luck: the film is hitting Amazon Prime Video. Set in the 17th century, Silence stars Andrew Garfield and Adam Driver as two monks who travel to Japan to find their missing mentor (Liam Neeson). They get a lot more than they bargained for. I'm normally not a huge fan of Garfield (the actor, not the carb-loving cat), but he gives an astonishing performance here, emotionally wrought and physically demanding. It's hands-down the best thing he's ever done. Silence isn't an easy film to watch, and it deals with heavy existential themes, and hard-hitting themes of faith. But it's truly magnificent, and deserves to be seen. Scorsese continues to show, again and again, even at this late stage in his career, why he's one of the best filmmakers of all time. That may sound like hyperbole, but I genuinely believe it. You could even say I have faith in it.For fans of: The Mission, The Witch, The Last Temptation of Christ, Andrew Garfield with various beards.
Now Streaming on Amazon Prime Video 
Before Iron Man made Robert Downey Jr. a blockbuster movie star, he was still considered something of a gamble. His past troubles with substance abuse tanked his career for a while, but he slowly climbed his way back up to the top. Eventually, Marvel would turn him into a huge deal, but right before that, he appeared in Shane Black's hilarious post-modern noir Kiss Kiss Bang Bang. Downey Jr. plays a two-bit thief who gets mistaken for an actor and ends up in Hollywood, where he's soon paired with a private detective, played to perfection by Val Kilmer. Along the way, the pair get mixed up in an increasingly confusing mystery, and pick up a third member of the group: Michelle Monaghan, playing a childhood crush of Downey Jr.'s who has languished in a go-nowhere acting career ever since coming to Hollywood. Black's snappy, clever dialogue makes this thing sing, but its the performance that sell it all so well. Downey Jr. is doing that smarmy, fast-talking thing he seems to do in all his movies now, but it works. Kilmer is hilarious. And why this film didn't turn Monaghan, who steals almost the entire film, into a super star remains a mystery to me. Bonus: like most Shane Black films, Kiss Kiss Bang Bang is set during Christmas time, which means it's the perfect film to get you in the holiday spirit.
For fans of: The Nice Guys, The Last Boy Scout, Lethal Weapon, profuse banter.
Now Streaming on Netflix
Yes, I know. This is usually a list devoted to movies, and The Good Place is a TV show. I'm cheating. I'm allowed to, it's my column. You might have heard of The Good Place, a comedy from Parks and Recreation creator Michael Schur, but you also may have never given it a chance. I, too, was like this. I'm a busy person, so it's hard to give every single TV show a chance. I usually bide my time, and listen to the buzz, and then see if a show ends up streaming somewhere. So when The Good Place season 1 found its way to Netflix, I decided to give it a chance, and I was not disappointed. In fact, I was blown away at how funny, and clever, and different the show is. Kristen Bell wakes up in the afterlife and finds herself in the Good Place, an idyllic paradise where seemingly everything you could ever want is obtainable. There's only one big problem: Bell is not the person the powers-that-be who run the Good Place thinks she is, and there's a very good chance she belongs in the dreaded Bad Place. There's a lot more going on here, but to give any of it away would do the show a diservice, as part of its charm is how surprising it ends up being, going in directions you'd never expect. Bell is great and finds just the right balance for her tricky character to keep her likable while still being a jerk, and the cast around her – William Jackson Harper, Jameela Jamil, Manny Jacinto, Ted Danson and especially D'Arcy Carden – are all dynamite. The Good Place is currently airing its second season, and it's been renewed for a third. So if you've yet to give it a chance, now's the time. You won't regret it.
For fans of: Parks and Recreation, Crazy Ex-Girlfriend, Unbreakable Kimmy Schmidt, puns galore.
Now Streaming on FilmStruck
Before there was Twitter, hateful presidents had to air their grievances in another way. Robert Altman's Secret Honor focuses on the ranting and ravings of Richard Nixon, sometime in the late 1970s following his failed presidency. As played by Philip Baker Hall, Nixon runs through a monologue about his life and political career, frequently changing the narrative whenever he sees fit. This is literally a one-man-show, with Hall the only person appearing in the film. Thankfully, Hall is a commanding enough actor that he's able to hold our attention through the film's 90 minute runtime. It would've been very easy for Hall to slip into a caricature of Nixon and attempt to mimic the disgraced president's voice. Hall however adopts a different method for the role, avoiding parody and creating something unique.
For fans of: Nixon, Frost/Nixon, Talk Radio, flop-sweaty rage.
Now Streaming on Shudder
Jeremy Irons gives not one but two magnificent performances in David Cronenberg's chilly 1988 psychological thriller Dead Ringers. Irons plays two twin brothers who both happen to be renowned gynecologists. The two have what could be classified as an unhealthy relationship, and they tend to play a game where they switch places and impersonate each other, even on dates. Things grow complicated when the more-gentle of the twins falls for a patient, played by Geneviève Bujold. One of Cronenberg's best films, Dead Ringers is a twisty, twisted experience, loaded with scenes meticulously designed to make the audience shift uncomfortably in their seats. At the center of it all is Irons, who does stunning work here playing two very distinct characters. The very nature of the storyline, with the twins switching places, could've made for easy confusion, but Irons' performances are so good you never once get tripped up. It's quite impressive.For fans of: Videodrome, The Fly, Sisters, Jeremy Irons talking to himself.
Now Streaming on FilmStruck
Not everyone is a fan of Terrence Malick's more recent tone poems, which are light on story and big on mood. If you're looking for all of the beauty and grandeur of a Malick film, but with just a smidge of a story, check out his haunting 1973 debut Badlands. Martin Sheen and Sissy Spacek are a couple of mixed-up kids on the run, cutting a bloody path across the Midwest. After Spacek's father (Warren Oates) stands in the way of her relationship with the much older Sheen, Sheen kills dear old dad and the lovebirds set out on a journey that begins racking up a body count. That may make Badlands sound like Natural Born Killers, but the film is much more subtle, much more emotional. Spacek's narration is both childish and poetic, and it gives the entire film an ethereal quality that only Malick seems able to successfully create. It's easy to roll your eyes at some of Malick's later films, but Badlands is something special.
For fans of: Days of Heaven, Bonnie and Clyde, True Romance, magic hour.
Now Streaming on Hulu
One of the weirdest movies you'll ever see, Colossal has one killer set-up: Anne Hathaway is an alcoholic who moves back to her hometown and promptly discovers she has the power to control a Kaiju-sized monster in Seoul, South Korea. That might sound ludicrous, but Colossal makes it work, and then it starts going in directions you'll never expect. At first, director Nacho Vigalondo makes it seem as if Colossal is going down the path of a million other generic quirky indie romantic comedies, especially when Hathaway encounters a childhood friend played by Jason Sudeikis. But what follows is anything but your typical rom com. Colossal takes a dark, disturbing turn, and that's all I'm going to tell you. The less you know about what happens here, the more effective the film is. What I can tell you is this: Hathaway is a delight to watch here. And the thing is, she's always been that way. At some point, the internet decided to focus its pent-up frustrations on Hathaway because she seemed to be overly enthusiastic about her work. Hopefully everyone is over that now and ready to accept that Hathaway really is a talented actress who never deserved the internet ire she drew. Colossal gives her a unique opportunity to remind audiences of her talents.
For fans of: Pacific Rim (sort of), In the Company of Men, The Host, unexpected twists.
Streaming on Hulu 12/3/2017
Before he made the rule-breaking superhero western Logan, James Mangold made the moody indie crime drama Cop Land. Sylvester Stallone leads a cast that includes Harvey Keitel, Ray Liotta,  Peter Berg, Janeane Garofalo, Robert Patrick, Michael Rapaport, Annabella Sciorra, Cathy Moriarty, John Spencer and Robert De Niro. Like Logan, Cop Land has roots firmly within the Western genre, but instead of being set on the dusty plains, it takes place in a New Jersey suburb, with New York always looming in the background. Stallone is the washed up local sheriff who turns a blind eye to all the "real" city cops who are clearly corrupt and running wild in his town. But little by little, Stallone's character begins to come around to doing the right thing. This is a surprisingly melancholy movie – it's like a Bruce Springsteen song come to life, full of weary working class folk just trying to get ahead. Stallone's presence likely made audiences at the time think this was going to be an action movie, which it definitely is not. While there are bursts of violence, Cop Land is more of a quiet, reflective film that seems to have been forgotten.
For fans of: Mean Streets, Shane, On the Waterfront, Robert De Niro shouting "YOU BLEW IT!!"
Now Streaming on Shudder
Just in time for the Christmas season, here's an under-the-radar horror-comedy that thrives from three strong central performances. Helen Rogers, Alexandra Turshen, Lauren Molina are three friends reunited for the holidays. Growing bored one chilly December eve, the ladies decide to have a little fun. One of the women tells her friends about her rich uncle's mansion, sitting vacant while the uncle is away on vacation. The three then proceed to sneak into the empty home and set about partying. And then everything goes wrong. This is another one of those movies where the less you know, the better the result will be. Little by little, Body begins to turn nasty, going down increasingly dark paths, especially when an unexpected visitor arrives at the house and puts a serious damper on a fun evening. Rogers, Turshen and Molina are equally strong here, each bringing something distinct to their roles while also remaining natural; these seem like real people in a really bad situation, not actors performing a part. I'm about 97.8% sure you've never heard of this movie, so if you have Shudder, now's your chance to discover it!
For fans of: Rope, The Descent, Jawbreaker, Larry Fessenden cameos.
Now Streaming on Netflix
I will freely admit that Band of Robbers is a film that should be terrible. Writer-directors Aaron and Adam Nee take Mark Twain's The Adventures of Tom Sawyer and Adventures of Huckleberry Finn and updates them for the 21st century, while also turning the characters into adults. I can already sense you rolling your eyes at this premise. But wait! Band of Robbers is a surprisingly funny, surprisingly charming film that works despite it's potentially hazardous concept. Band of Robbers has some flaws, and the style of the film owes a huge debt to Wes Anderson, particularly his film Bottle Rocket, to the point where I think it's safe to call some stuff here a rip-off. Yet gosh darn it, this film is a lot of fun. Huck (Kyle Gallner) and Tom (Adam Nee) get mixed-up in a plot to rob a pawn shop; a plan that goes hilariously awry. The supporting cast, including Matthew Gray Gubler and Hannibal Buress, bring a lot to the proceedings, and Supergirl's Melissa Benoist is on hand to charm the hell out of you. I urge you to overlook Band of Robbers' potentially twee shenanigans; you won't be sorry.
For fans of: Bottle Rocket, The Last Romantic, pleasant surprises.