Disney's Live-Action 'Mulan' Casts Chinese Actress Liu Yifei As Its Star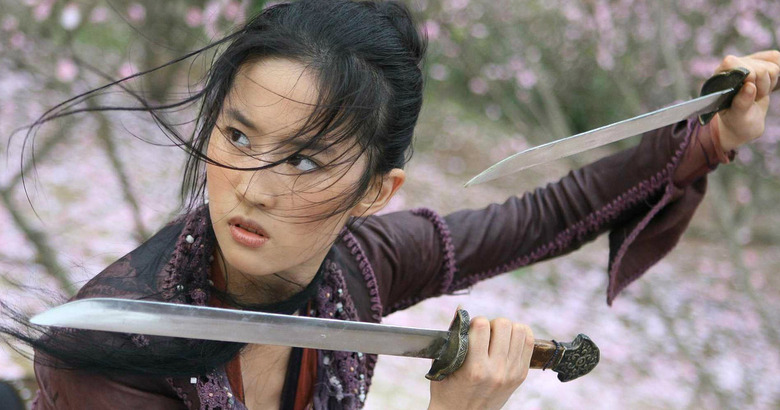 Disney has honored its promise to cast a Chinese actress as the star of its live-action adaptation of Mulan. Chinese actress Liu Yifei has been cast as Fa Mulan, the warrior woman who saves all of China in the classic Chinese myth and 1998 animated Disney film.
Liu's casting marks the end of a year-long search for the Mulan star, who Disney assured us would be of Chinese descent after outcry over issues of whitewashing in Hollywood. Now that Liu has finally been cast, the live-action adaptation can ultimately get down to business to begin production in time for Disney's planned 2019 release.
Liu Yifei, also known as Crystal Liu, is perhaps best known stateside for her role as the Golden Sparrow in 2008's The Forbidden Kingdom — a Hollywood production that saw the first major on-screen collaboration between modern martial arts movie legends Jackie Chan and Jet Li. She's also had an English-speaking role in 2014's Outcast, opposite Nicolas Cage and Hayden Christensen.
Liu is fluent in English after having lived in Queens, New York for part of her childhood, according to The Hollywood Reporter. She recently starred opposite Emile Hirsch in Bille August's period romance The Chinese Widow, which premiered the Shanghai International Film Festival in June.
But though she's not a household name (yet) in the U.S., Liu is well-known in China, nicknamed "Fairy Sister" for her innocent image and proclaimed to be part of the wave of New Four Dan Actresses in China. She's no stranger to Chinese period pieces — apart from The Chinese Widow, she's starred in Chinese dramas like The Return of the Condor Heroes and the epic Chinese fantasy film Once Upon a Time. She's also moonlighted as a pop star — which bodes well if the live-action adaptation ends up being a musical in the vein of other Disney adaptations.
Liu was cast by Disney after a long and arduous process in which the studio sought out an ethnically Chinese actress with credible martial arts skills and the ability to speak English. Disney had been placed under the microscope after Hollywood underwent a wave of criticism for whitewashing Asian ethnicities in films like Ghost in the Shell and Aloha, with petitions calling for a Chinese actress to play Mulan arising soon after Disney announced the film. Casting directors visited five continents and saw over 1,000 candidates over the course of a year, according to THR, finally casting Liu this year.
The 1998 animated Mulan starred Ming-Na Wen as the title character, with a cast including Eddie Murphy and B.D. Wong. It was significant for having a nearly all-Asian cast, so it's encouraging that the live-action film will live up to the animated film's legacy. Now, if they can cast Ming-Na Wen as Mulan's mom, and I'll be a happy camper.
Mulan will be helmed by Niki Caro (The Zookeeper's Wife) and produced by Chris Bender, Jason Reed, and Jake Weiner. Disney is eyeing a 2019 release for the live-action film.