Capturing The Music Of Mexico For Pixar's 'Coco' With Michael Giacchino [Interview]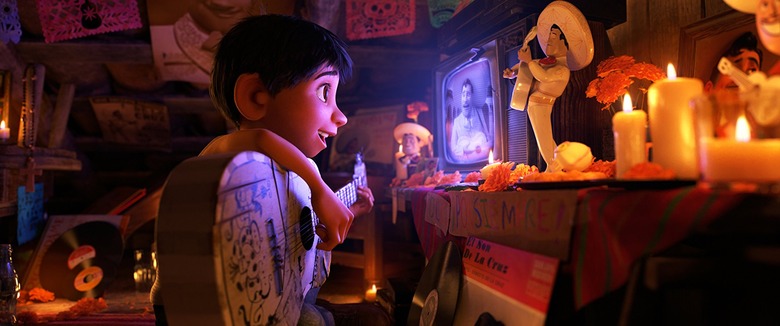 Coco isn't a musical, but its music is as central to it as the elements of family, memory, life, and death. Music is what carries Miguel (Anthony Gonzalez) along on his quest to find his idol Ernesto de la Cruz (Benjamin Bratt) in the Land of the Dead, music is what unites Miguel and his ragamuffin skeleton companion Hector (Gael Garcia Bernal), and what ultimately tears apart and unites his family.
Music — and the fantastic original songs from the Pixar animated film — is the warm, beating heart of Coco. Because music plays such an essential role, the music team behind Coco made sure to embed the songs and score as deeply into Mexican culture as they could. This amounted to years of research and 5o (!) Mexican musicians participating in the vibrant, effervescent soundtrack.
I spoke to composer Michael Giacchino, who has had a busy year composing scores for a whopping three blockbusters (Spider-Man: Homecoming, War for the Planet of the Apes); orchestrator Germaine Franco, who participated in the movie's pivotal song "Remember Me"; and cultural consultant Camilo Lara, who brought to the film a connection to the plethora of Mexican music genres as well as a signature Dr. Seuss-style hat.
Can you describe to me your three separate roles?Franco: I didn't do the lyrics, the lyrics were done by Adrian Molina. I wrote the music and produced the demos and worked with the musicians and singers to create the compositions that you see. I also worked with the arrangers for the "Remember Me" song and orchestrated and produced that, and I helped Michael as well as an orchestra.Lara: I did a couple of music pieces for the film and also I helped with...we had a big session in Mexico, I helped get the musicians and also helped navigate through the different Mexican music genres.Giacchino: He's been like, I like to say, our Mexican Obi-Wan Kenobi.Lara: Or Mexican Chewbacca!Giacchino: Hey, Obi-Wan is a little more wise, Chewie's just a sidekick.How about Mexican Yoda? How's that?Lara: [Laughs] Well, I'm not so sure about that.So were you all brought on at the same time for this project?Giacchino: [Camilo] was first.Lara: I guess so. Yeah, I got contacted by Lee and he liked my music so I immediately said, "Yes, whatever you want. I'll be there."Franco: I was brought on originally as an arranger to work on the "Remember Me" song, and after I helped do various arrangements of various songs, then I was asked to start writing songs, and then I wound up producing songs. Michael was kind enough to let me go to Mexico and I wound up working with Camilo on a lot of the source music on some of the traditional songs.The music is so essential to this movie. Was there ever talk of it becoming a full-fledged musical?Giacchino: I think at any point when you're developing one of these films, especially in the long years it takes to make, there's a lot of thought put into the style you want to tell the story. So it wouldn't be surprising that at some point they'd go, "Oh, let's make a musical," but then they'd go, "Oh, let's try this, it's got great drama!" So you're always trying everything. And I think it always comes down to, what is the best for this story? What is the best way to tell this story? Is it a musical? Or is it a drama? Or is it maybe a movie about music with great source music? So it all comes down to what is best for this movie.
So when you went to Mexico to get all of the Mexican musicians for the source music, did you have the songs already written or was it compiling all of it?Giacchino: It was a mix of original songs that Germaine had arranged and new things that I had written that are in the vein of traditional songs that we were going to record as well.Franco: We had this huge spreadsheet and had multiple conversations about what would be the best song, because there's so many to choose from. Then Camilo and I decide "Okay, we're going to do these ensembles." And he sends me two or three videos or audio of different ensembles and he and I choose together. Basically they're all his friends and they're all fantastic musicians. So we headed down there with lots of spreadsheets and a stack of scores of songs, Michael's source music, and traditional arrangements, and then we tried to do as much as we could in the time that we had and recorded over 70 minutes of music. It was amazing.Lara: With 50 musicians from all genres.So you had mariachi, la banda musicians...Franco: Jarocho musicians from Veracruz, then we had the marimba players. There's a sound called trío romantico, and it's three singers doing harmony and playing guitars. We also had música norteña, which is an accordion and drum set. Then we had some female vocalists.Lara: We even had some musicians play with seashells...weird stuff.Franco: And we had solo tuba. We had some hybrid ensembles, one ensemble was with a guitar, accordion, trumpet. We basically tried to get as much material as we could. And with Michael's source cue, I tried to arrange with different ensembles so that we could see which sounded the best.So a lot of the songs have lines that are completely in Spanish, almost bilingual songs in a way. Was that something you were nervous about when making the songs, or was it something you saw it being accepted more with songs like "Despacito" being at the top of the charts in America?Franco: So the first song that you hear in the attic, that had to be in Spanish. And it's a love song, it's bolero. It's called "La quiero a morir." And it's in Spanish, but what we decided is that it could be in Spanish but there were little accents of the people singing. Because we wanted people to understand it but not be afraid to use Spanish words when needed. And because a lot of it you understand the context of the song — it's a guy singing a love song — you don't have to understand every word, it's the feeling of the song. And then on "Un Poco Loco," that one is a bit of a play on words and certain things. It's not all in Spanish, but he says "Ay mi amor, ay mi amor" and that's something you would say to your loved one. So we kind of wove Spanish in and out of the songs.
***********
Coco is in theaters now.