Syfy's 'Nightflyers' Will Have A 10-Episode First Season, Says George R.R. Martin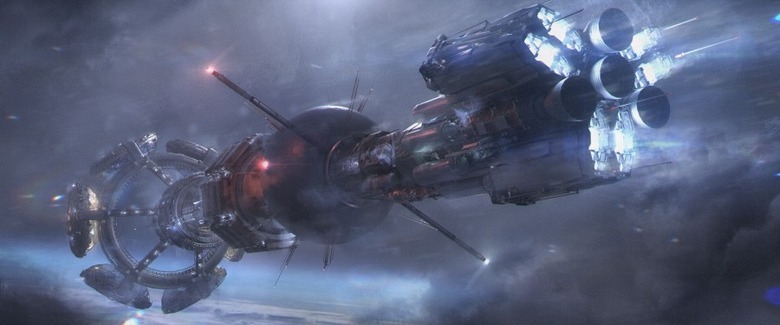 There are procrastinators, then there's George R.R. Martin. The Song of Ice and Fire author may have stepped back from his executive producer role in HBO's Game of Thrones to focus on finishing his long-in-the-works book The Winds of Winter, but another shiny object has caught his eye lately: Syfy's TV adaptation of Martin's 1980 sci-fi horror novella, Nightflyers.
To be fair, Martin has been involved with talks about the series since spring of this year, but he's back to giving us updates on his blog about the upcoming adaptation. The newest announcement: Syfy has picked up the series for a 10-episode first season.
Martin announced on his "Not a Blog" LiveJournal that Nightflyers, created by Jeff Buhler and Daniel Cerone, is currently being developed for a 10-episode first season on Syfy. Cerone will act as showrunner while Buhler has penned the pilot for the series. Martin writes:
"NIGHTFLYERS will be shot in the Republic of Ireland, I'm told, on sound stages in Limerick... which will give them access to the same great pool of Irish and British actors that GAME OF THRONES has tapped in Belfast (and considering how many characters we've killed, a lot of them should be available). ((If by some miracles I actually complete enough of my other projects to create some free time, I've love to go over there and kill two birds with one flight by visiting both the GOT and NIGHTFLYERS sets... but that remains a long shot, given my current word load)). If all goes according to schedule, the series should debut this summer, in late July. It will be broadcast on SyFy in the USA, and on Netflix around the world."
This is the second update that Martin has provided us with Nightflyers after he was first alerted to the development of a series in May of this year. The 1980 novella was a "haunted starship" story, set in Martin's Thousand Worlds universe, which he later expanded as a collection of short stories in 1985. Nightflyers was first adapted as a 1987 feature film directed by Robert Collector, which followed a group of scientists on board a spaceship who are terrorized by the ship's sentient computer. Check out the trailer, which is as 1980s sci-fi as you can get.
Martin wrote on his blog that he met with Buhler and Cerone, who showed him the pilot script and concept art of the Nightflyer space ship, seen above. Though surprised by the news that Syfy acquired the TV rights to the old movie deal of Nightflyers, Martin says he was heartened by Buhler and Cerone's pilot, which "departs considerably" from the plot of Martin's novella:
"Honestly, at first I was baffled as to how they hoped to get a series out of my story, since at the end of the novella (and the film) pretty much everyone is dead (it was a horror story, after all). But in May, UCP got me a copy of Jeff Buhler's script, and I saw how he'd dealt with that. It was a good read, and yes, I came away with a better idea of where they'd find a few seasons."
I'm slightly comforted by Martin's assurances that he won't take an active part in the Nightflyers series, but I've started to lose hope at being able to read The Winds of Winter sometime in this decade. While I'm sure Syfy will have a wonderful new twist on the horror-camp of Nightflyers, I just want Martin to finish his Song of Ice and Fire series soon. And maybe update from LiveJournal.