'Journeyman' Trailer: Paddy Considine's Boxing Film Is A Gut-Punching Drama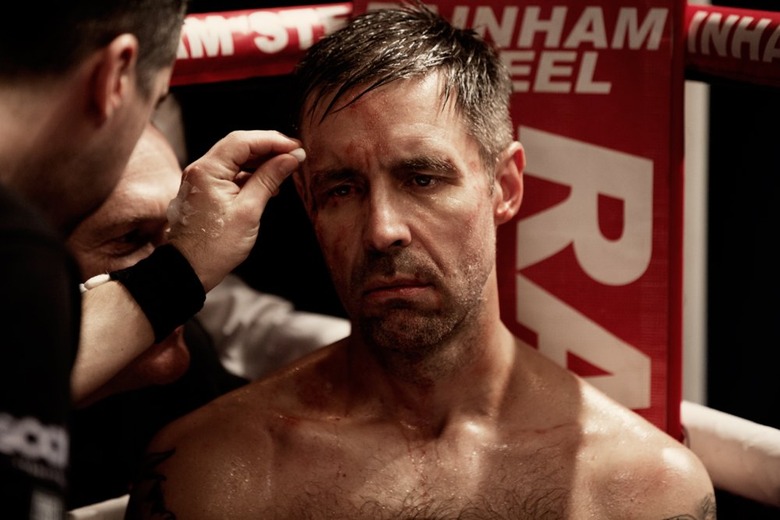 Paddy Considine isn't a household name in the least, but there's a chance that you sorta, kinda recognize his face – when it's not bruised and battered like it is in the Journeyman trailer, that is.
Considine has carved out a niche for himself as a supporting player in everything from quirky British comedies to Hollywood action films. He's most recognizable as one of the recurring actors in Edgar Wright's Cornetto Trilogy, appearing in Hot Fuzz and World's End, but he's also known for his role in The Bourne Ultimatum. But, likely dissatisfied with his role as a character actor, Considine has broken into the directing field, making his directorial debut with Tyrannosaur back in 2011 and returning to the chair again with the upcoming Journeyman.
Journeyman Trailer
Journeyman follows a professional boxer named Matty Burton (Considine) who seems to have it all: a loving wife, a new baby, and a championship prize. But in a particularly tense fight, Burton receives a head injury that permanently incapacitates him — he becomes amnesiac and mentally disabled, reliant on his ever-supportive wife (future Doctor Who Jodie Whittaker) and seemingly estranged brother.
It's as heart-wrenching as you'd expect an inspirational sports movie to be, with an impressive turn from Considine, who seems eager to prove that he's leading man material after spending decades on the sidelines. While I have reservations about sentimental weepies that tug at your heartstrings, the trailer (via Empire) seems authentic enough, with Considine and Whittaker clearly giving their all. There's no U.S. release for the film yet, so I'm not sure whether Journeyman will make much of an impact stateside, but I commend Considine for taking initiative by getting behind the camera.
Read the brief Journeyman synopsis below:
Boxer Matty Burton suffers a serious head injury during a fight. It is about the impact this has on his marriage, his life and and his family.
Journeyman is set to open in U.K. theaters on February 16, 2018. There is no information yet on a U.S. release.