WTF: Live-Action Daphne And Velma Movie Coming From Ashley Tisdale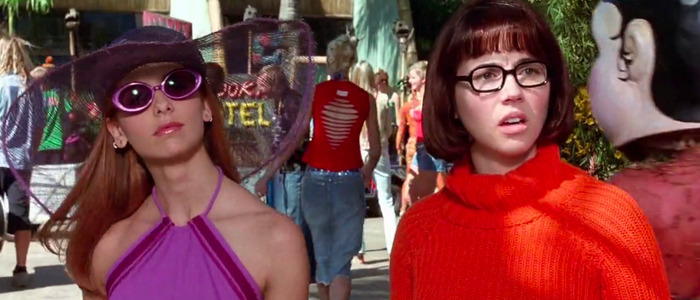 Jinkies, here's a strange idea: a live-action prequel story about how Scooby-Doo's Daphne and Velma became friends. Sure, why not? A new Daphne and Velma movie will focus on the female members of Mystery, Inc. when they were still teens, before they teamed up with a talking dog, a boring square, and a squeaky-voiced fellow with the munchies.
Those meddling kids of Mystery, Inc. from Scooby-Doo have been solving groovy mysteries since 1969, but just how did they all team-up and decide to run a non-profit business where they travel from town to town in a van and eventually pull ghost masks off cranky old men? As originally reported by Omega Underground, Daphne and Velma will attempt to answer at least part of the question, in the form of a live-action direct-to-DVD movie. Deadline revealed even more details on the project: Sarah Jeffery (Shades of Blue and the upcoming season of The X-Files) will play Daphne, the redhead who seems to always get knocked out or captured by the villains in the Scooby-Doo cartoon, and Sarah Gilman (Last Man Standing) will slip on a huge pair of glasses which she will then promptly lose to play the bookish Velma.
The film, from Ashley Tisdale and Jennifer Tisdale's Blondie Girl Productions, will focus on Velma and Daphne as teens who meet online and then become crime-solving friends when Daphne transfers to Velma's high school. At some point, zombies get involved. Because again, sure, why not. Here's the official synopsis:
Before their eventual team-up with Scooby and the gang, bright and optimistic Daphne and whip-smart and analytical Velma are both mystery-solving teens who are best friends but have only met online — until now. Daphne has just transferred to Velma's school, Ridge Valley High, a tech-savvy institute with all the latest gadgets provided by the school's benefactor, tech billionaire Tobias Bloom. And while competition is fierce among the students for a coveted internship at Bloom Innovative, Daphne and Velma dig beyond all the gadgets and tech to investigate what is causing some of the brightest students in school to disappear — only to emerge again in a zombie-fied state.
Whether or not Scooby and the rest of the gang will show up in Daphne and Velma remains to be seen; maybe they're being saved for the sequel. This isn't the first live-action take on the Scooby-Doo characters: there were two live-action Scooby-Doo movies, both written by James Gunn. There were also two live-action made-for-TV films, Scooby-Doo! The Mystery Begins and Scooby-Doo! Curse of the Lake Monster. Daphne and Velma also isn't the first attempt to portray members of Mystery, Inc. as kids: the animated series A Pup Named Scooby-Doo, which ran from 1988-1991, featured the gang as junior high school kids. I used to watch it on Saturday mornings. It was awful.
Daphne and Velma will arrive courtesy of Warner Bros. Home Entertainment some time next year.