Watch Tom Holland "Accidentally" Reveal New 'Avengers: Infinity War' Poster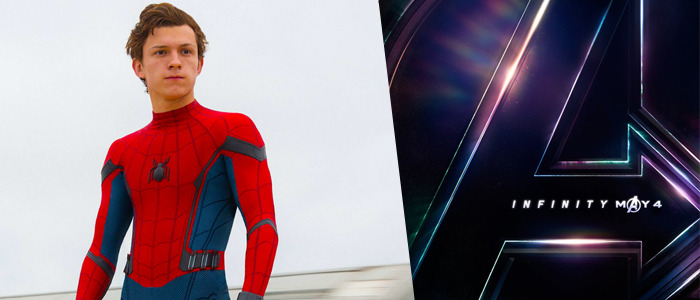 Tom Holland, you little scamp. The 21-year-old actor, who portrays Spider-Man in the Marvel Cinematic Universe, has just "accidentally" released a new Avengers Infinity War poster during an unboxing video on Instagram live. Watch his charming little display below, and get a look at the officially-released poster while you're at it.Mashable points us to this video of Holland, who unboxes a gift from his Infinity War co-star Mark Ruffalo. The gift turns out to be a teaser poster for the movie, but Holland realizes too late that the poster was confidential and he wasn't supposed to share it with the world. Check out the video:
TOM HOLLAND SHOWING A CONFIDENTIAL INFINITY WAR POSTER THAT MARK RUFFALO SENT HIM IS THE BEST THING I'VE EVER SEEN pic.twitter.com/tYVdOyMxiz

— sara (@JensenAcklesGod) November 28, 2017
Just in case there was any doubt that Holland was just playing around in that video, Marvel officially unveiled the full poster soon afterward:
Check out the new teaser poster for Marvel Studios' "Avengers: #InfinityWar." pic.twitter.com/nTRCpmtpnT

— Marvel Entertainment (@Marvel) November 28, 2017
And then Ruffalo kept the joke going on his own Twitter account:
Haha! For the record @MarvelStudios, I didn't spoil this one. https://t.co/Ko49vbh9Ad

— Mark Ruffalo (@MarkRuffalo) November 28, 2017
It's not like Holland would have been revealing anything significant anyway – it's just a purple-tinged logo, after all, teasing the imminent arrival of Thanos – but it's still fun to see Marvel's youngest hero (and one of the Science Bros) get in the spirit and give fans something more to get excited about. And as our old friend Germain Lussier pointed out on Twitter, Marvel is keeping things consistent, so if anyone actually purchased all of these posters, they'd look great on a wall next to each other:
I love consistency in marketing. It makes each of these Avengers teaser posters that much better. #InfinityWar pic.twitter.com/3g5KRlGk1z

— Germain Lussier (@GermainLussier) November 28, 2017
This teaser poster should hold us over until tomorrow when the first official trailer for Avengers: Infinity War will finally be released after what feels like years of anticipation. Will it, and the movie itself, live up to the hype? Stay tuned to find out.
Avengers: Infinity War hits theaters on May 4, 2018.