'Avengers: Infinity War' Trailer: Earth's Mightiest Heroes May Have Finally Met Their Match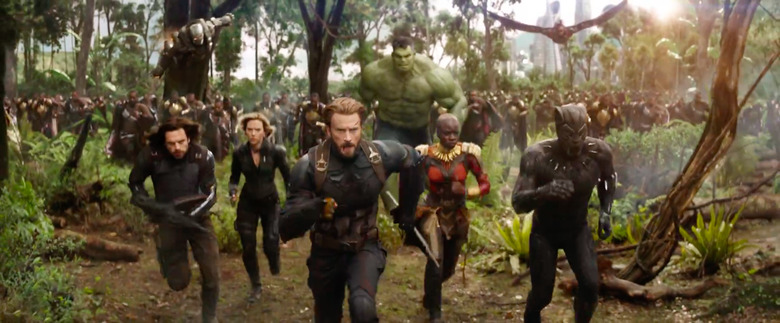 It's all been leading up to this. Well, technically, it's all still leading up to Avengers 4, but since that movie doesn't come out until 2019, we'll take what we can get.
As promised in a trailer tease video yesterday, Marvel Studios has unveiled the highly-anticipated first trailer for Avengers: Infinity War, the superhero sequel that sees practically every hero in the Marvel Cinematic Universe uniting to face down the Mad Titan Thanos (Josh Brolin). Finally, after years of lurking in the shadows and pouting on his throne, Thanos is taking matters into his own hands – and our heroes may have finally met their match. Check out the first Avengers Infinity War trailer below.
Avengers: Infinity War trailer
"There was an idea to bring together a group of remarkable people, to see if we could become something more, so if they needed us we could fight the battles that they never could..."
Broken apart and isolated, the trailer for Avengers: Infinity War finds Tony Stark, Steve Rogers, Natasha Romanoff, and Thor reciting Nick Fury's mantra that first brought them all together. But it's not that idea that brings them together, but a new threat in the form of Josh Brolin's CGI villain Thanos — looking somewhat unremarkably like a purple CGI version of Josh Brolin. But the rest of the trailer is definitely cause for excitement: first footage of bearded Cap! Human Vision! Loki reunited with the Tesseract! Doctor Strange meeting Bruce Banner and Tony, and Thor (with his trusty eyepatch) meeting the Guardians of the Galaxy!
Not bad for a movie in which the actors didn't even receive the full script during production, eh? Things aren't exactly peachy for Earth's Mightiest Heroes, who finally come face to face with Thanos, an angry god looking to pull off a heist of the Infinity Stones so he can control the universe. Scarlett Johansson previously revealed that there would be more than 30 actors in one scene, so we'll have to wait and see if directors Joe and Anthony Russo are able to wrangle that massive group of characters into a coherent and compelling story.
Avengers: Infinity War just might features one of the best casts ever assembled in film history: Johansson, Brolin, Robert Downey Jr., Mark Ruffalo, Tom Hiddleston, Chris Evans, Chris Hemsworth, Jeremy Renner, Chris Pratt, Elizabeth Olsen, Sebastian Stan, Benedict Cumberbatch, Paul Bettany, Samuel L. Jackson, Chadwick Boseman, Cobie Smulders, Benedict Wong, Zoe Saldana, Karen Gillan, Vin Diesel, Dave Bautista, Pom Klementieff, Don Cheadle, Tom Holland, Bradley Cooper, and Anthony Mackie.
As the Avengers and their allies have continued to protect the world from threats too large for any one hero to handle, a new danger has emerged from the cosmic shadows: Thanos. A despot of intergalactic infamy, his goal is to collect all six Infinity Stones, artifacts of unimaginable power, and use them to inflict his twisted will on all of reality. Everything the Avengers have fought for has led up to this moment – the fate of Earth and existence itself has never been more uncertain.
Avengers: Infinity War arrives in theaters on May 4, 2018.