'Avengers: Infinity War' Trailer Arrives Tomorrow, Watch This Teaser To Get Excited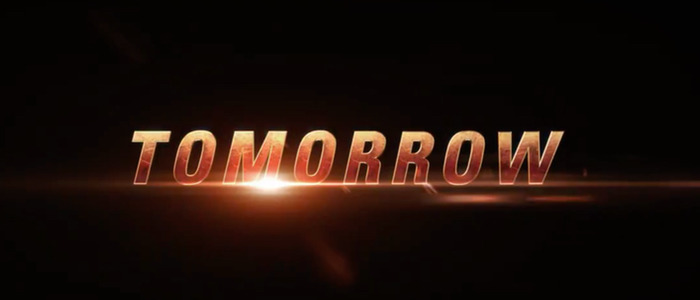 Are you ready to go crazy on twitter and use an excessive amount of exclamation points? After months of hype, the Avengers: Infinity War trailer is finally going to grace us with its presence, and we now have an announcement video to prove it. Usually, the trailer-for-a-trailer trend can be frustrating, but Marvel decided to turn the concept into something of a celebration.
In these modern times of instant gratification, it can be frustrating to wait for something. People want things now, sooner rather than later. Marvel fans know this frustration well, since the majority of them have been longing for the Avengers: Infinity War trailer ever since the first footage from the highly-anticipated MCU film debuted at SDCC. More often than not these days, footage that pops up at Comic-Con will soon find its way online, but Marvel held off on the Infinity War trailer for months. Here's the good news: the wait is almost over. And there's an announcement video to prove it.
Let's be honest: the trailer-for-a-trailer trend can be frustrating – do we really need a trailer for a trailer? Do their credit; Marvel has decided to have some fun with the concept. Rather than a quick tease of what's to come, the folks at Marvel have assembled a loving tribute to not just their films, but to their fans as well. This announcement video compiles footage from all the MCU films that have led up to Avengers: Infinity War, cutting it against trailer reaction footage uploaded from fans. Sure, it's a little self-congratulatory, but this is clearly something put together to celebrate the committed supporters of the MCU (while also serving as smart promotion for a product). Here's the official Avengers: Infinity War synopsis:
As the Avengers and their allies have continued to protect the world from threats too large for any one hero to handle, a new danger has emerged from the cosmic shadows: Thanos. A despot of intergalactic infamy, his goal is to collect all six Infinity Stones, artifacts of unimaginable power, and use them to inflict his twisted will on all of reality. Everything the Avengers have fought for has led up to this moment – the fate of Earth and existence itself has never been more uncertain.
The Russo Brothers, directors of Avengers: Infinity War, have been teasing a countdown on their Facebook page this week. Today, they posted a friendly number 2, which suggested the trailer would be dropping on Thursday, but it appears they're going to unleash the trailer a day earlier than expected. We'll have the trailer for you as soon as it arrives.Avengers: Infinity War, starring Robert Downey Jr., Josh Brolin, Mark Ruffalo, Tom Hiddleston, Chris Evans, Chris Hemsworth, Jeremy Renner, Chris Pratt, Elizabeth Olsen, Sebastian Stan, Benedict Cumberbatch, Paul Bettany, Cobie Smulders, Benedict Wong, Zoe Saldana, Karen Gillan, Vin Diesel, Dave Bautista, Bradley Cooper, Pom Klementieff, Scarlett Johansson, Benicio del Toro, Tom Holland, Anthony Mackie, Chadwick Boseman, Danai Gurira, Paul Rudd, Don Cheadle and Letitia Wright, opens May 4, 2018.Update: The trailer will premiere on Good Morning America tomorrow, between 7 am and 9 am EST.
Tomorrow.@Avengers: #InfinityWar.

World trailer premiere.

Only on @GMA. pic.twitter.com/ZWTEAVuVpC

— Good Morning America (@GMA) November 28, 2017