'Call Me By Your Name,' 'Get Out' Win Big At The 2017 Gotham Awards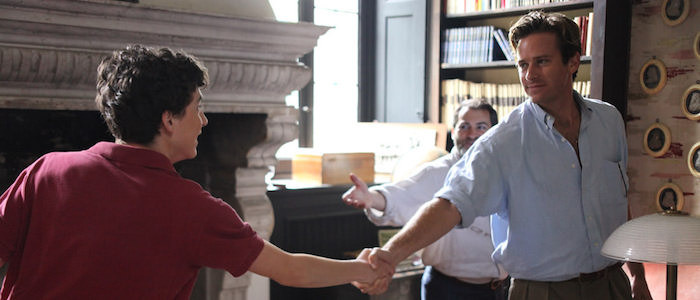 It seems like there are two clear front-runners as the movie awards race kicks off with the Gotham Independent Film Awards.
While Jordan Peele's horror hit Get Out swept multiple categories at the beginning of the ceremony including best screenplay, breakthrough director, and the audience award, it was Call Me By Your Name that won the coveted best feature award in a surprising last-minute twist. On the heels of the Independent Spirit Award nominations, which were also dominated by Get Out and Call Me By Your Name, it seems like these two films have been named front-runners in the Oscar race.
The first official stop on awards season trail, the Gotham Awards have become a great way of gauging which Oscar contenders to keep an eye on, with previous top Gotham winners Moonlight, Spotlight, and Birdman leaping to the top of the Oscar ballots.
See the full list of winners below:
Best Feature
Call Me by Your Name (Sony Pictures Classics)
Best Documentary
Strong Island (Netflix)
Best Actor
James Franco in The Disaster Artist (A24)
Best Actress
Saoirse Ronan in Lady Bird (A24)
Breakthrough Series – Long Form
Atlanta (FX Networks)
Bingham Ray Breakthrough Director Award
Jordan Peele for Get Out (Universal Pictures)
Breakthrough Actor
Timothée Chalamet in Call Me by Your Name (Sony Pictures Classics)
Breakthrough Series – Short Form
The Strange Eyes of Dr. Myes (YouTube)
Best Screenplay
Get Out, Jordan Peele (Universal Pictures)
Now in its 27th year, the New York City-based awards ceremony originally only recognized small movies, but has since expanded its repertoire to career tributes and TV and acting prizes.
In its recap of the awards dinner, hosted by John Cameron Mitchell, Variety described Nicole Kidman's somewhat hazy reception of a career tribute from friend Reese Witherspoon, declaring in her speech, "These are the Independent Spirit Awards." (It wasn't.)
Peele took multiple trips to the stage for Get Out, giving a rousing speech about his underdog film and how it's important to amplify minority voices. These wins bode well for Get Out's Oscar chances, which until now seemed like a dark horse choice because of the Academy's reluctance to award genre films.
"When I started to write this film I set out to make a movie that would be my favorite movie that I had never seen," Peele said. "It's so important that we support these voices from the outside, these perspectives we haven't seen, we haven't heard. They will resonate. We need these stories."
The 2017 Best Actor/Best Actress nominating committee also voted to award a special Gotham Jury Award for ensemble performance to Mudbound, the prestigious historical drama distributed by Netflix. The award went to actors Carey Mulligan, Garrett Hedlund, Jason Clarke, Jason Mitchell, Mary J. Blige, Rob Morgan, and Jonathan Banks.