'The Post' Early Buzz: A Timely, Important Film, And One Of Steven Spielberg's Best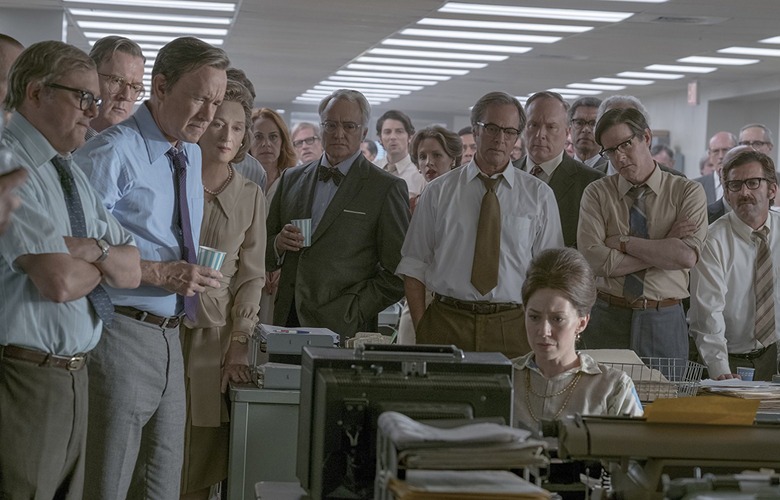 The Post could not have come at a better time, if first reactions to Steven Spielberg's ode to journalism are anything to go by. Set in 1971, The Post recounts the events following the New York Times' publication of the Pentagon Papers. Determined to follow the Times' lead, Washington Post publisher Katharine Graham (Meryl Streep) and editor Ben Bradlee (Tom Hanks) face the wrath of the U.S. government over the course of the Post's publication of the Pentagon Papers, which divulge a decades-spanning cover-up of government secrets regarding the Vietnam War.
The embargo for social media reactions to The Post has been lifted, and critics are raving about how timely and important Spielberg's latest film is in an era in which journalism is being assaulted.
See The Post early reactions below.
The Post comes as a saving grace from Spielberg, who critics say is at the top of his game once again — though you would be hard pressed to find a critic who would argue that Spielberg ever fell off his game. But as a director responsible for classics like Jaws, Schindler's List, and E.T., it's still astonishing to hear both /Film's Peter Sciretta and IndieWire's David Ehrlich call The Post Spielberg's best film since Munich. The critics universally agree that The Post is a strong Academy Awards contender.
Streep gives a powerhouse performance as the first female publisher of a major news outlet, and Hanks is a worthy foil. Critics also praise Bob Odenkirk's performance as Ben Bagdikian.
The Post is not being universally praised in early reactions, however. A few critics note that the film is obvious Oscar bait, while a few disagree with the consensus that Spielberg has reached a new career peak, with Eric Vespe calling it Spielberg on "autopilot."
Regardless, The Post rings particularly true today, when free press and media credibility are increasingly questioned and ridiculed. Cries of "fake news" are thrown without any basis in truth, and false information is disseminated every day. Just yesterday, a Washington Post story revealed that the paper was subjected to an undercover scheme attempting to discredit their reporting on the Roy Moore allegations. It seems that films like The Post are invigorating in their unvarnished depiction of the truth.
The Post is an important film, not just to history, but to the now. Streep is amazing. My audience broke into applause at least 6 times during the movie itself. Spielberg's best film since Munich.

— /Film (@slashfilm) November 28, 2017
I can't think of another movie off the top of my head that feels so vital, so essential, so important, and so inextricably linked to what's happening in America right now. It's upper tier Spielberg, and easily in the top 3-5 movies of this year. Nary a misstep to be found.

— Ben Pearson (@benpears) November 28, 2017
#ThePost: there's good timing and then there's GOOD TIMING. The story is a mirror image of our current day. Everyone has their A game including Hanks and Streep. Odenkirk is a standout. While not the best of the year should be high on plenty of ballots making it a heavy favorite.

— Max Covill (@mhcovill) November 28, 2017
Simply put: #ThePost is the best Spielberg film since 'Saving Private Ryan.' Spectacular ensemble cast lead by a pair of powerhouse leads turns from Hanks and Streep. Eerily timely, vitally important & exciting.

— EscapeIntoFilm/EscapeIntoGaming (Paul Carlson) (@EscapeIntoFilm) November 28, 2017
Exhilarating. Profound. Confident. Thrilling. Spielberg's #ThePost might not be the best movie I've seen this year, but it speaks to now in ways that set my heart ablaze. Streep is stunning.

— Sara M Fetters (@MoviefreakSara) November 28, 2017
Saw #ThePost tonight. It might be great. It certainly feels important in an era when journalism is under assault. It also feels important in an era where men are learning how many women are under assault. #KayGraham

— Ben Mankiewicz (@BenMank77) November 28, 2017
Steven Spielberg's "The Post" is a timely look at the importance of journalism. Hanks rips his role to shreds while Streep shows up with an angelic grace. Kaminski's camera work & Williams' score are standouts. First 30 mins drag but comes home by the end. A crowdpleaser #ThePost pic.twitter.com/OoPgEkTLYv

— Clayton Davis – Stand with 🇺🇦 (@ByClaytonDavis) November 28, 2017
#ThePost is a film that makes you sit further forward in your seat. Spielberg's reinvigorated. Streep brings tenacity to the table. Hanks most electric role in years. This is about the importance of accountability & truth in a time of lies resonant then & now. pic.twitter.com/U81PCvN5Os

— Courtney Howard (@Lulamaybelle) November 28, 2017
Also, whether I'm objective or not, I will say that what Meryl Streep does in this movie, building a narrative about her character with each line, move, and gesture, is, even by her standards, astounding.

— Mark Harris (@MarkHarrisNYC) November 28, 2017
I pretty much loved THE POST. Streep: Her best perf in years. Hanks: Delightfully irascible. The rest of the cast: Great. I expected its depiction of journalism to feel vital & sentimental. I did not expect Spielberg to make his first overtly feminist film since The Color Purple.

— Adam B. Vary (@adambvary) November 28, 2017
for serious: I yelped and shrieked aloud a handful of times. at one point I grabbed @jhoffman's knee with my whole hand. it's another entry in Spielberg's worship of PROCESS and I adore it

— David Sims (@davidlsims) November 28, 2017
#ThePost is excellent. Obvious but well worth saying – Streep and Hanks are fantastic. Takes some time to build but was *very* moved by Katharine Graham's experience and how incredibly important it is to tell this story right now.

— Perri Nemiroff (@PNemiroff) November 28, 2017
The Post benefits from a great, likable cast and a sadly timely reminder of the last time a president tried to villainize the press. However it's super on the nose, incredibly slight and kind of a snooze overall. Felt to me like Spielberg was on autopilot.

— Eric Vespe (@EricVespe) November 28, 2017
The all-star cast of The Post is rounded out by Alison Brie, Carrie Coon, David Cross, Tracy Letts, Sarah Paulson, Jesse Plemons, Michael Stuhlbarg, Bradley Whitford, and Zach Woods.
Here is the official synopsis for The Post:
Katharine Graham is the first female publisher of a major American newspaper — The Washington Post. With help from editor Ben Bradlee, Graham races to catch up with The New York Times to expose a massive cover-up of government secrets that spans three decades and four U.S. presidents. Together, they must overcome their differences as they risk their careers — and very freedom — to help bring long-buried truths to light.
The Post hits limited theaters on December 22, 2017, before expanding wide on January 12, 2018.