Hot Take: 'Olaf's Frozen Adventure' Should Not Have Debuted Before 'Coco'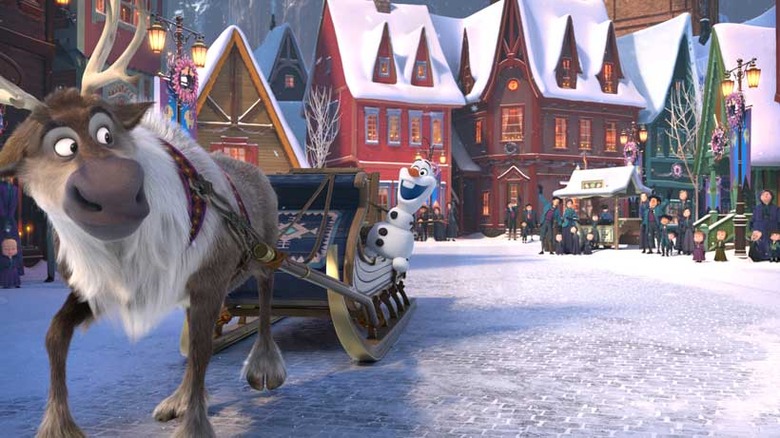 If you saw Coco in theaters this past weekend and were expecting a pleasant Pixar short film like Piper, La Luna, or Presto, you were in for a rude awakening: instead of a short that lasted only a few minutes, audiences were forced to sit through Walt Disney Animation's Olaf's Frozen Adventure, a 21-minute long featurette about Olaf and his friends discovering the true meaning of the holidays.
Here's a hot take for you: the short film, which was originally intended to air on ABC as a holiday television special, should have stayed on the small screen where it belonged and not inconvenienced everyone who wanted to see Pixar's latest feature.
Audiences hate Olaf's Frozen Adventure
making us endure Olaf's Frozen Adventure to get to Coco is a metaphor for the Mexican American experience I just haven't figured out how yet

— JuanPa (@jpbrammer) November 27, 2017
20 mins of trailers + OLAF'S FROZEN ADVENTURE + a COCO filmmaker intro?? Disney, please... pic.twitter.com/Ku4I92hp8P

— Jared (@jgoresy) November 27, 2017
The FROZEN short before COCO unforgivably stretches the definition of "short."

— AADowd (@AADowd) November 25, 2017
Audiences are pissed, and it's hard to blame them, since many of them had no idea what they were getting themselves into when they bought a ticket to Coco. 21 minutes is an eternity when it comes to keeping young kids quiet and interested – especially when you're adding that time on top of the runtime of the actual film you're there to see. Some Mexican theaters heard so many complaints from their patrons that they have removed the short from future showings of Coco altogether.
I happened to see Olaf's Frozen Adventure under the best possible circumstances: on the Walt Disney studio lot for a press event that was focused solely on that short (or, as the producer called it during my interview with him, a "featurette"). We were only there to watch the short and talk with the filmmakers – in other words, they didn't show it to us attached to Coco.
The fact that I didn't have a 21-minute long featurette sprung on me before a movie I was paying to see probably explains why I didn't outright hate it; I thought Olaf's Frozen Adventure was fine. It's a safe piece of holiday storytelling that goes out of its way not to offend anyone or any religion, and there are a couple of decent jokes and moments throughout. In other words, it would have been perfect for the TV special it was originally supposed to be. The 21 minute runtime is almost exactly the right amount of time needed to fill a thirty minute time slot with commercials. Disney could have made advertising money on that every year by playing it on TV during the holiday season.
My anticipation for COCO made me so annoyed with OLAF'S FROZEN ADVENTURE. Why did a 21-minute short film need to play before COCO? Should have just been a holiday TV special.

— Ethan Anderton (@Ethan_Anderton) November 24, 2017
If I had to speculate, I think Disney wildly overestimated its audience's willingness to sit through this short film. I'd bet that people in charge thought that slotting this in front of Coco would result in Frozen super fans lining up to buy tickets to a movie they might not have otherwise paid to see in theaters – the 2017 equivalent of dropping a Star Wars prequel trailer in front of Meet Joe Black. Seems like that backfired in a major way. I think this quote from /Film's David Chen accurately sums up the critical reception to Olaf's Frozen Adventure:
The short film was constructed in a way to be the most widely appealing, least offensive reference to Christmas ever. At the end, when Elsa uses her ice powers to create a Christmas tree, there's a Disney ornament at the top, rather than something that might actually symbolize anything other than corporate domination of the holidays.
This is the type of film people complain about when they say that Christmas is too commercial. It says nothing of value. Its execution is barely competent. It is only interested in getting you to buy more Frozen Blu-Rays, or getting you to think about these characters once more during the long wait for Frozen 2.
It is a colossal waste of time whose only legacy will be that it made the magical experience of seeing the great new Pixar film just a little bit less special.